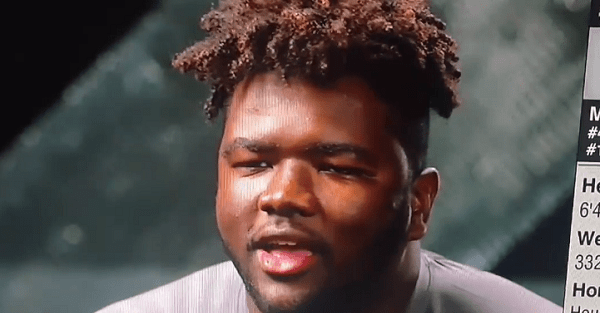 Twitter/@Singleshot25
There are many reasons why some kids choose schools. Sometimes they like the programs that certain colleges offer, they like the location, they like the coaching staff or sometimes it's something else. For one elite recruit in 2017's top defensive tackle in Marvin Wilson ended up choosing Florida State for a completely different reason altogether.
RELATED: Marvin Wilson makes for the finishing touch on FSU's class
In a pre-recorded segment for ESPN's National Signing Day coverage, Wilson detailed one of the reasons why he chose FSU over the likes of LSU, Ohio State, Texas and Alabama.
In case you didn't hear him, here is the transcript:
?The best meal I had by far was when I was at Florida State,? Wilson said in the pre-recorded segment prior to his announcement. ?They had this thing called ?honey fried chicken.? I was like, ?that sounds kinda suspect? and I got one piece. I bit into that one piece of chicken and went and grabbed the pan and we ate that whole pan of honey fried chicken.

?That?s probably the best chicken I?ve ever had in my life.?
RELATED: Florida State assistant coach throws major insult at SEC school
I am not sure I have ever heard a recruit say he chose a school based on food choices, but that is pretty incredible. The kid is 6'4″ and 329 pounds so getting his food is definitely a priority.
[h/t Saturday Down South]