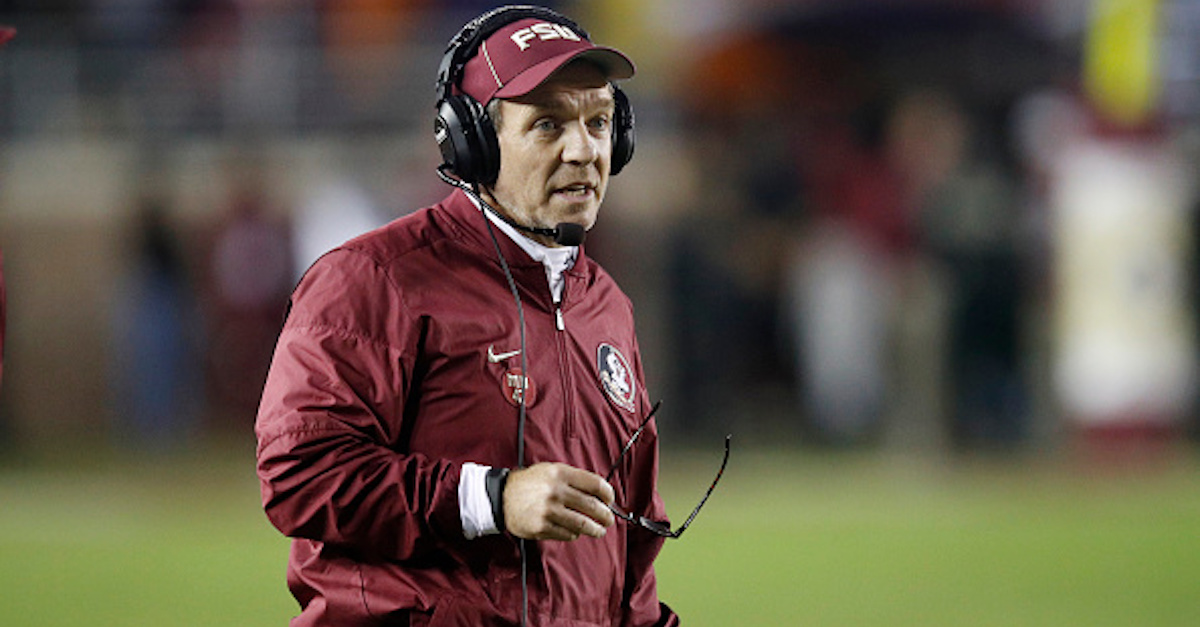 Joe Robbins/Getty Images
TALLAHASSEE, FL - NOVEMBER 26: Head coach Jimbo Fisher of the Florida State Seminoles looks on during the game against the Florida Gators at Doak Campbell Stadium on November 26, 2016 in Tallahassee, Florida. Florida State defeated Florida 31-13. (Photo by Joe Robbins/Getty Images)
Jimbo Fisher is now out at Florida State and that means there will be plenty of speculation as to who the next coach will be for the Seminoles. There's already a heavy betting favorite in Oregon's Willie Taggart and he is one of the better choices for them as they search for a new head coach. Him along with four others are FanBuzz's top five choices for who Florida State should go after in their head coaching search.
Willie Taggart (Oregon)
The Oregon coach might not have had a great first season in Eugene — the Ducks have gone 6-5 — but the offense has been more than respectable with considerably less talent than the Seminoles have on their roster right now. They average a shade under 425 total yards of offense and have been scoring 36.7 points per game. So the fans worried about potential scoring issues shouldn't have an issue with that.
Taggart also has ties to the state in recruiting having taken USF from the bottom of the conference to near the top and leaving behind a pretty good team that only lost two games this year to UCF and Houston. With the promise made by the school to put more money into the facilities and the assistant coach pool, Taggart would be set up quite nicely if he were to get the job.
Charlie Strong (USF)
Plenty of Florida State fans would be scratching their head at this one, especially if they only paid attention to him during the Texas years as a head coach. However, he took USF to a 9-2 record this year and has a reputation as being a defensive-minded guy. That should get some fans on his side despite his long time as a coordinator at rival Florida.
The Seminoles already held opponents to only 23 points a game this year, but that can certainly be improved upon. Strong could also likely lower the 144 yards of rushing allowed and 195 passing yards allowed by the Seminoles given the talent he would have at his disposal when he gets there. Strong's recruiting ties to the state and SEC region would certainly be an advantage for the 'Noles as well.
Justin Fuente (Virginia Tech)
The Virginia Tech coach has proven he belongs in the ACC after taking over for the legendary Frank Beamer just two years ago. He made Memphis into the AAC contender it is today by going a combined 19-6 in his last two season there. He's won nine or more games the two seasons in Blacksburg with a chance to make it consecutive 10-win seasons if the Hokies win their bowl game.
Fuente has been a solid recruiter, nabbing the 42nd-ranked class in his first year on the job (but not a full year) and then improved to the 26th-ranked class in 2017 after getting a full year to recruit. He could make a similar jump at FSU, but he has no real ties to the state or the southeastern region so it might be a tough sell. His players are always well coached and he's come close to beating some top tier teams, but hasn't quite broken through in that regard yet.
Lane Kiffin (FAU)
The troll master that is Lane Kiffin might be toiling away at FAU this season and has a bad track record as a head coach. However, most people believe that he's reformed now, or at the very least can manage the antics well enough to still coach effectively. He's taken a lowly Owls team and made them an offensive juggernaut in Conference USA. They are playing in the championship game and are averaging a shade under 40 points a game to go with about 480 yards of total offense.
Clearly, he can handle improving the offense for the Seminoles. He should be a fine recruiter as well having had so many stops around the country as both an assistant and head coach. He also has NFL experience he can point to when he's recruiting kids. Having recruited for USC, Tennessee and Alabama he pretty much has all the major recruiting pipelines covered as well. He would also be a nice fresh take on press conferences that Fisher couldn't really provide for whatever that may be worth too.
Manny Diaz (Miami)
Diaz is relatively young at 43 so it may be a bit of reach for him to get his first head coaching job in Tallahassee for such a big program. However, he's rejuvenated Miami on the defensive end with his turnover chains and if he did something similar for the Seminoles you can bet that rivalry would get real nasty real quick. And frankly, it would make football in the state of Florida way more exciting.
He started as a graduate assistant at Florida State for two seasons and went to two BCS National Championships, winning the game for the 1999 season. So it would be a homecoming of sorts for Diaz and recruiting shouldn't be an issue since he's so young and has been recruiting for Miami the past two seasons. He should know the state as far as recruiting goes and should be able to get some Miami talent to come up to Tallahassee to play.