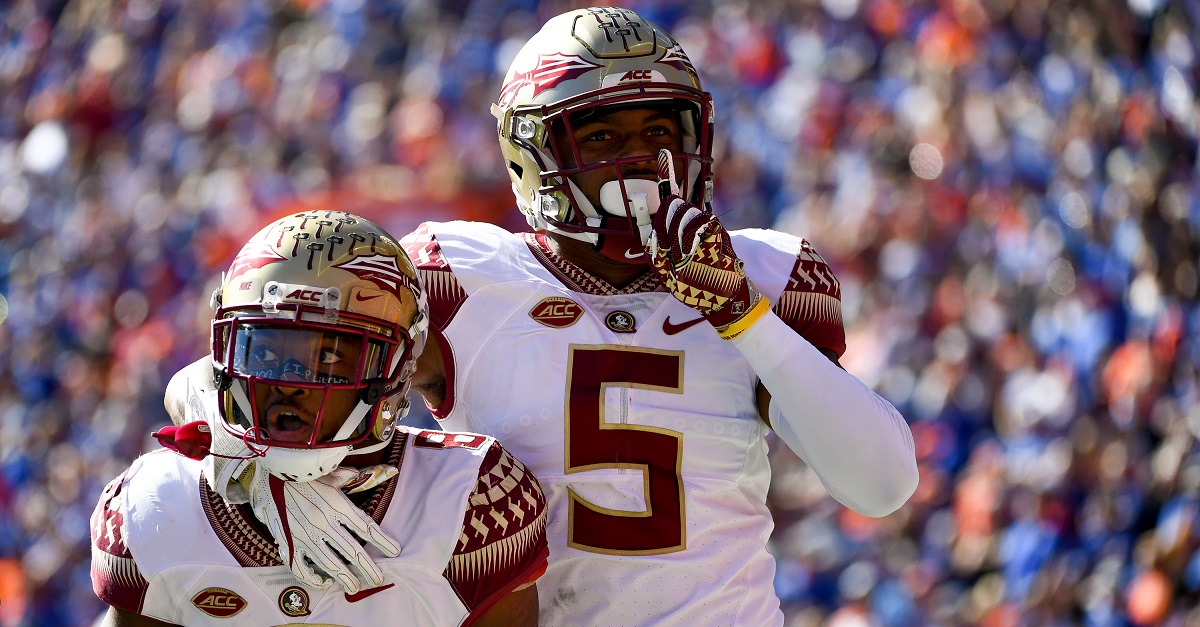 Rob Foldy/Getty Images
GAINESVILLE, FL - NOVEMBER 25: Nyqwan Murray #8 and Da'Vante Phillips #5 of the Florida State Seminoles react after an FSU touchdown during the first half of the game against the Florida Gators at Ben Hill Griffin Stadium on November 25, 2017 in Gainesville, Florida. (Photo by Rob Foldy/Getty Images)
New Florida State head coach Willie Taggart has been on the road recruiting and has reportedly been landing assistant coaches. Now, it looks like his 10-man staff is now officially finalized. The official Twitter account of Florida State football tweeted out his new staff.
Taggart released a statement on his staff and what he's looking forward to this season.
?From the beginning of this process, my goal was to bring in the best coaches for our program and I believe we have done that,? Coach Taggart said. ?This group will do a great job of recruiting, developing, coaching and mentoring our student-athletes to reach their highest potential. I?m excited for the next few weeks as we are finalizing our 2018 signing class and then working with our team as we prepare for spring practice.?
The five confirmed assistant coaches announced were Walt Bell who will be the offensive coordinator and quarterbacks coach while Greg Frey will be the run game coordinator and offensive line coach and David Kelly will coach receivers. Mark Snyder comes from Michigan State and will coach defensive ends and Alonzo Hampton will be the special teams coordinator.