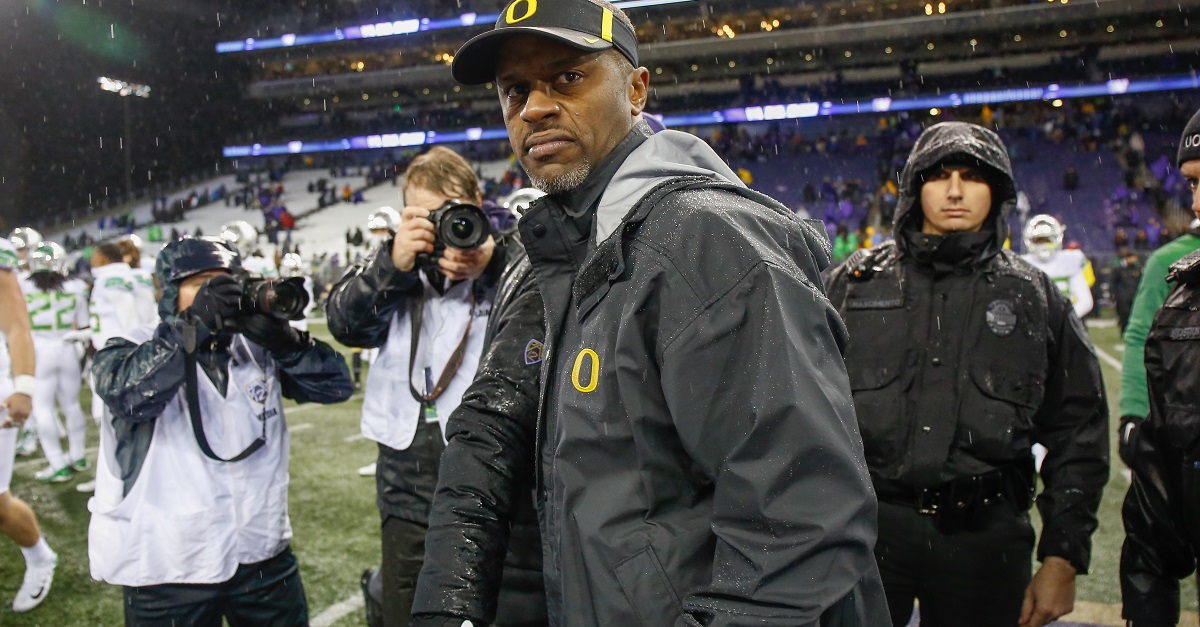 Otto Greule Jr. /Getty Images
SEATTLE, WA - NOVEMBER 04: Head coach Willie Taggart of the Oregon Ducks heads off the field after the game against the Washington Huskies at Husky Stadium on November 4, 2017 in Seattle, Washington. The Huskies beat the Ducks 38-3. (Photo by Otto Greule Jr/Getty Images)
Willie Taggart is still putting together his staff at Florida State and it looks like he's gotten a good start as he's now taken away Oregon running backs coach Donte Pimpleton, according to a report from NBC Sports Northwest. Pimpleton has worked with Taggart since 2015 when they were both at USF.
He becomes the second hire for Taggart's staff after tight ends coach Telly Lockette agreed to the position on Saturday. Oregon defensive coordinator Jim Leavitt was expected to join Taggart in Tallahassee, but has reportedly re-upped with the Ducks to keep the same job title.
Oregon averaged 251 yards on the ground in 2017 while FSU averaged 100 yards less than that this season. Assuming Pimpleton can work some similar magic with even better talent that the Seminoles have, he could really make that offense hum with the likes of Cam Akers, Jacques Patrick (assuming he comes back for a senior season), Ryan Green and Amir Rasul coming back. That doesn't include any potential running backs they taken in the 2018 recruiting class either.
[h/t Orlando Sentinel]