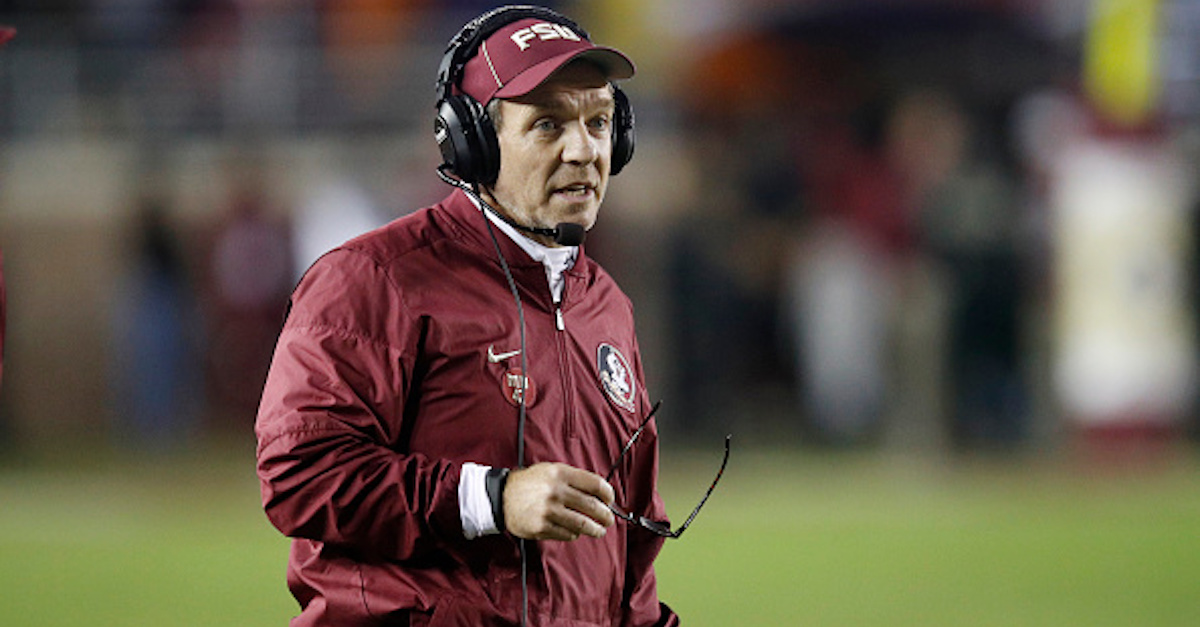 Photo by Joe Robbins/Getty Images)
TALLAHASSEE, FL - NOVEMBER 26: Head coach Jimbo Fisher of the Florida State Seminoles looks on during the game against the Florida Gators at Doak Campbell Stadium on November 26, 2016 in Tallahassee, Florida. Florida State defeated Florida 31-13. (Photo by Joe Robbins/Getty Images)
Florida State head coach Jimbo Fisher wasn't shy when discussing the ACC recently at ACC Media Days. In fact, he came out and called his shot, saying that the Atlantic Coast Conference is the best in college football.
Of course, fans of SEC football will likely take objection with Fisher's statements, and the Big Ten has been pretty powerful as of late as well, but think a minute about Fisher's claims.
First of all, Clemson, an ACC team, is the defending CFP National Champion. The Tigers will be without Deshaun Watson this season, but as long as Dabo Swinney is the head coach and he keeps pulling in top recruits, they'll probably always be contenders.
Fisher's FSU program made the first ever College Football Playoffs in 2014 and won it all, back when it was referred to as the BCS National Championship, in 2013. Fisher is one of the best recruiters in the game and he has a very talented — and CFP worthy — team heading into 2017.
Generally, the knock on the ACC has been that it's very top heavy, and with schools like Wake Forest, Boston College, and Syracuse at the bottom of the totem poll that's been an easy argument.
With that said, Louisville will be interesting this season and the Cardinals boast the reigning Heisman Trophy winner at quarterback in Lamar Jackson. Miami will be dangerous in Mark Richt's second year and Virginia Tech will be a team to watch now that head coach Justin Fuente is in his second season.
Pitt is a legitimate contender in the conference under Mark Dantonio, and it's been hard to count out North Carolina or even Duke football over the past few seasons.
That's not even mentioning N.C. State or Virginia. The Wolfpack tend to lean towards mediocre but they have been known to surprise in the past. Virginia should also be a bit more established in Bronco Mendenhall's second year, so all-in-all, it's tough to count either of those schools out.
All that goes to strengthen Fisher's point. Clemson and FSU are the front-runners for national attention in 2017, but top to bottom, the ACC is a very exciting conference heading into 2017.
But is it college football's premier conference?
You be the judge.
(H/T SEC Country)