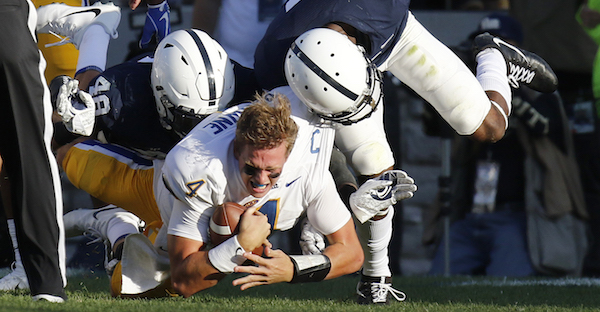 Justin K. Aller/Getty Images
STATE COLLEGE, PA - SEPTEMBER 09: Max Browne #4 of the Pittsburgh Panthers loses his helmet while being tackled by Nick Scott #4 of the Penn State Nittany Lions at Beaver Stadium on September 9, 2017 in State College, Pennsylvania. (Photo by Justin K. Aller/Getty Images)
Max Browne was a big-time recruit of the highest order when he arrived at USC as a member of the class of 2013. In fact, 247Sports ranked Browne as the top pro-style quarterback prospect nationally and, with that as the backdrop, expectations were off the charts for the signal-caller from Skyline High School in Washington.
After appearing in mop-up duty in both 2014 and 2015 for the Trojans, Browne finally had his chance to start last season. Midseason, though, Browne lost his starting job to future first-round pick Sam Darnold and that prompted a transfer to finish his college eligibility with the Pitt Panthers.
Before the end of September, however, Browne seemingly has lost his job again.
It should be noted that Browne was not the only reason that Pitt fell behind by a 35-point margin in the first half against the dynamic Oklahoma State Cowboys, but he certainly did not help. It seems inconceivable that a quarterback with this pedigree couldn't hold a job at Pitt, but given the scuffles he has already faced, Pat Narduzzi could be looking in another direction for the rest of the season.
Nothing is official at this point with regard to the Pittsburgh QB depth chart, but Max Browne got benched on Saturday and it wasn't the first time.
Pitt lost the game 59-21, so Browne wasn't the only one to blame in the loss.