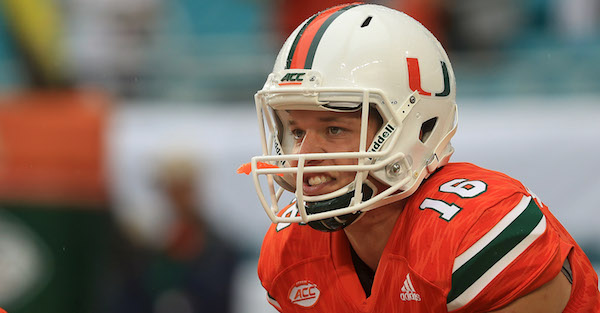 Mike Ehrmann/Getty Images
MIAMI GARDENS, FL - SEPTEMBER 02: Evan Shirreffs #16 of the Miami Hurricanes warms up during a game against the Bethune Cookman Wildcats at Hard Rock Stadium on September 2, 2017 in Miami Gardens, Florida. (Photo by Mike Ehrmann/Getty Images)
When quarterback Evan Shirreffs decided to transfer from Miami, he was initially blocked from transferring to any ACC school or any of Miami's non conference opponents in 2018 and 2019.
Shirreffs appealed the decision, and he will now be allowed to transfer to Virginia, Duke and North Carolina ? and the reasoning has nothing to do with football.
According to CBS Sports, Shirreffs will be enrolling as a graduate transfer, and he plans to get his masters in business finance.
He will be allowed to transfer to those three schools because they are in the top 25 MBA programs, according to U.S. News and World Report.
On Feb. 2, Dodd reported that Shirreffs graduated with a 3.9 in business finance.
Fortunately, the school at least decided to lift the ban on some schools.
Shirreffs has only thrown seven passes in his career, and it seems like he's more interested in getting his masters degree than he is furthering his football playing career.