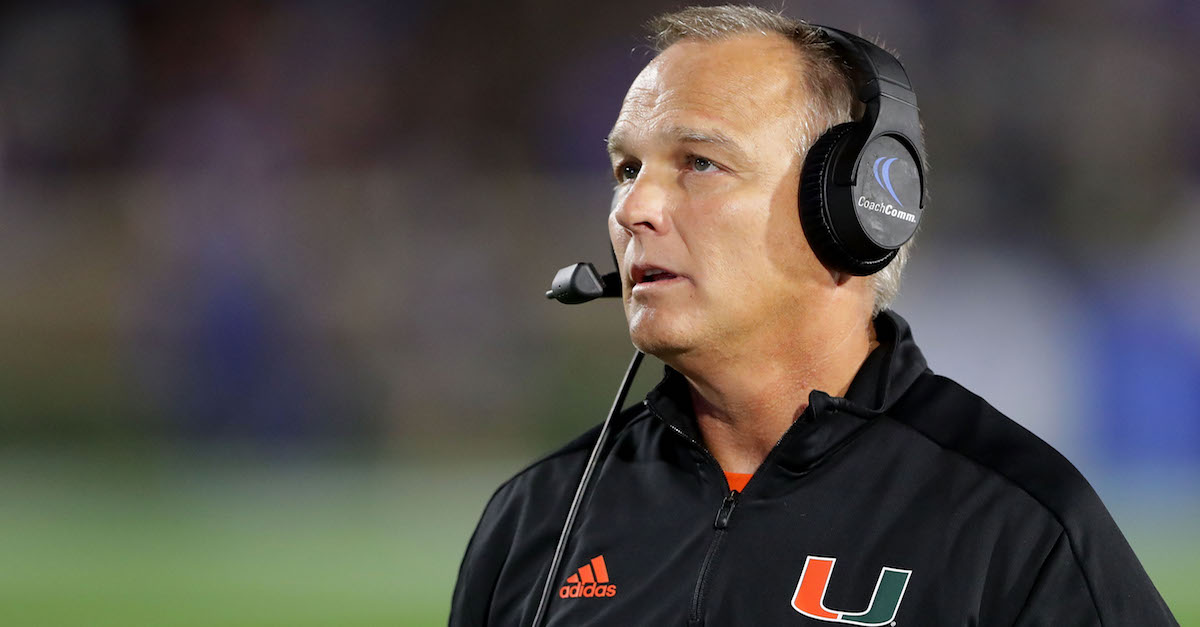 Streeter Lecka/Getty Images
DURHAM, NC - SEPTEMBER 29: Head coach Mark Richt of the Miami Hurricanes watches on against the Duke Blue Devils during their game at Wallace Wade Stadium on September 29, 2017 in Durham, North Carolina. (Photo by Streeter Lecka/Getty Images)
Miami coach Mark Richt acknowledged a heated exchange with officials that resulted in an unsportsmanlike conduct penalty during the Hurricanes' 34-24 Orange Bowl loss to Wisconsin on Saturday, but believes he was justified in his actions.
"I know I lost my cool," Richt said after the game. "I thought rightfully so as far as being mad, but not with some of the language I used."
Richt complained that the Badgers offensive linemen continuously got away with holding his defensive players and let his frustrations out on the officials, which included grabbing the arm of the head linesman and led to several staffers attempting to hold him back.
The incident drew a flag, which moved Wisconsin up to the Miami 5-yard line, leading to a touchdown on second-and-goal to extend its lead to 24-14.
After the game, Richt complained that he was frustrated by a lack of calls, including a hold on wide receiver Braxton Berrios that resulted in an interception, as well as several potential holding penalties.
"It continued until the end of the game," Richt said. "I'm probably not supposed to say that."
The usually mild-mannered Richt has been critical of the Hurricanes' lack of holding calls throughout the season. Miami's opponents have been flagged for offensive holding only six times in 2017.
However, Saturday's game were particularly crucial.
"That played a big part [in the Orange Bowl]," defensive tackle Kendrick Norton said. "Those downfield passes, they take a long time to develop, so if you're holding somebody off the edge, that has a big impact on the play."
Miami finished its season with a 10-3 (7-1 ACC) overall record following the loss. Richt did end up apologizing afterward though.