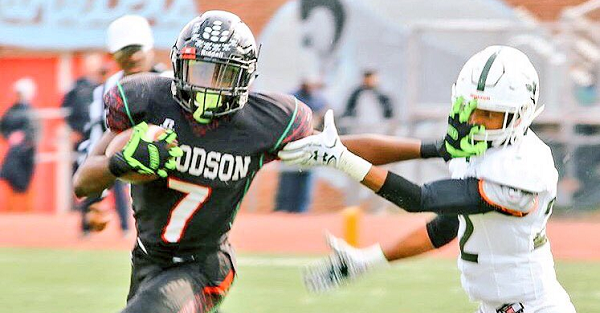 Twitter/@_TopProspect_
Twitter/@_TopProspect_
Four-star all-purpose back Mychale Salahuddin, a former USC commit, plans to choose between Syracuse and Pittsburgh during a National Signing Day ceremony on Wednesday, his assistant coach, Dwayne Johnson, confirmed to 247Sports.
"Those are the two schools he's looking at," Johnson, who oversees recruiting at the school, said. "He is coming to make his decision at the school on signing day."
Salahuddin has taken official visits to both schools during the past two weekends, beginning with Syracuse, who already signed teammate Edward Hendrix.
"He loved the coaching staff. That is first," Johnson said. "He been hearing for months he knew he was a special coach, and he came back saying that was the reason why he visited there when he had the chance to visit other schools. It was his relationship with coach Babers.

"He loved the coaching staff, he loved the campus. That's all he talked about. Once he got there on his visit, he really liked it. His mother and grandmother said it was a really good visit."
Pittsburgh made a late push to sign the four-star back following his decommitment from the Trojans in December and "came in strong," according to Johnson. Last weekend, Salahuddin was hosted by current Panthers defensive lineman Jaylen Twyman during his official visit.
"He loved everything Jaylen told him," Johnson said. "He said he really liked being around the professionals there. Ya' know, the Pittsburgh Steelers practice right across the same playing field they practice on. He liked that."
Salahuddin ranks as the No. 5 all-purpose back, No. 1 player from the District of Columbia and the No. 214 overall prospect for the 2018 national recruiting cycle, according to 247Sports' Composite rankings.