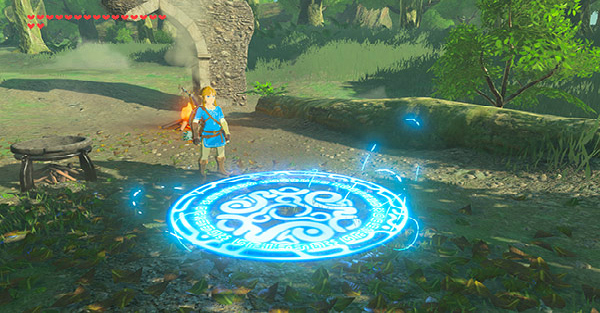 zelda.com/breath-of-the-wild/news/expansion-pass-dlc-pack-1-detailed/
Nintendo has unveiled its first batch of content for The Legend Of Zelda: Breath of the Wild in an announcement made over their official website.
The reveal details the expansion pack of the game, which released earlier this year to critical acclaim, receiving glowing reviews from every major news source and breaking a number of records both for the Zelda franchise and for Nintendo.
The first major expansion, however, is almost disappointing. While many players expected an expanded story or map, Nintendo instead revealed a number of cosmetic outfits, a new trial,  a harder difficulty mode, and a couple of niche gameplay elements. Still, that's not to say it's underwhelming.
Trial of the Sword
This refers to a new challenge that awaiting players in which they face an onslaught of enemies, one wave at a time. Once the waves are completed, Link can proceed to a new room – and fight his way through yet another trial. There are 45 rooms in total, which amounts to an incredible amount of fighting and is, overall, probably one of the most impressive parts of the expansion.
Hero's Path
This new feature is an addition to the player's map, which indicates the path they've taken over the last 200 hours of gameplay. This handy little improvement will be an ideal tool for any completionists seeking to beat Breath of the Wild 100%.
Hard Mode
One of the more major inclusions for the expansion is the addition of a new Hard Difficulty. In this mode, enemies will gradually regain health while not in combat. They'll also be stronger with an additional level added, and may even take to the skies, where they can be found hoarding extra treasure chests.
Travel Medallion
A handy little trinket in an as-of-yet undiscovered location that, when found, will grant the player a single travel location to which they can teleport to from anywhere on the map. Though players will find their burden not that eased; the trinket can only register a single location at a time and is not, from the sounds of it, an instant taxi trip to anywhere the player desires.
More Armor
Veterans of previous Legend of Zelda games will find a feeling of nostalgia in Breath of the Wild when they come across any of the 8 newly included armor pieces, each modeled after a previous game.
Korok Mask
Another helpful tool for completionists, the Korok Mask, once worn, will vibrate whenever Link is near one of the game's many hidden Korok locations. Considering there are 900 of them stashed around Hyrule, the Korok Mask will be invaluable to anyone who intends to find them all.
The first expansion for The Legend of Zelda: Breath of the Wild is due to launch sometime this summer. For future news, check out the official Nintendo website, or follow them on Twitter.