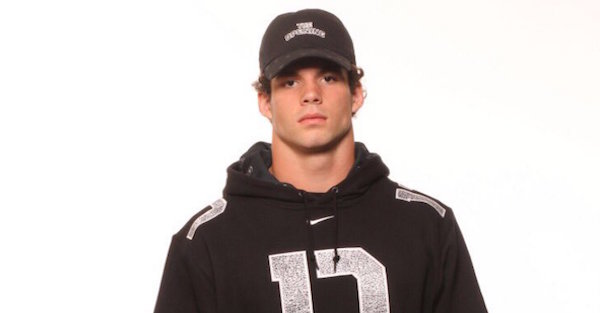 @payton_wilson21/Twitter
@payton_wilson21/Twitter
Four-star outside linebacker Payton Wilson, who has been committed to North Carolina since May, announced his decommitment from the Tar Heels on Wednesday via Twitter.
"This is one of the hardest decision I have had to make," wrote Wilson. "I would like to thank Coach Fedora and Coach Jp for everything they have done for me. I would like to thank the UNC fans for supporting me and all the friends that I have made along the way. My family and I have been praying and thinking on this decision a lot and I am going to be opening my recruiting process back up and decommit from UNC. Please respect my decision as I move forward."
During the past month, Wilson has taken official visits to NC State (Nov. 3) and Notre Dame (Nov. 18), prior to announcing his decision to reopen his recruitment.
The 6-foot-4, 225-pound senior ranks as the No. 4 outside linebacker, No. 4 player from the state of North Carolina and the No. 49 overall prospect for the 2018 national recruiting cycle, according to the 247Sports Composite rankings.
Wilson recorded 103 tackles, 21 tackles for loss and 10 sacks prior to suffering a season-ending injury in October, according to Tom Loy of 247Sports.
The U.S. Army All-American currently has 26 total scholarship offers including Alabama, Clemson, Florida State, N.C. State, Notre Dame and Ohio State.
The Tar Heels currently have 11 hard commits and rank No. 48 overall in the 247Sports' team rankings for the 2018 national recruiting cycle.