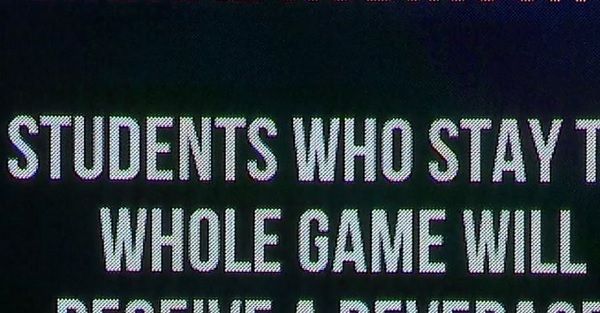 SBNation/twitter
Pitt is having itself a very bad day against No. 9 Oklahoma State, and it has been so bad, in fact, that the school felt the need to bribe its students to stay in the arena.
At halftime, the Panthers were down to the Cowboys by a whopping score of 49-14. That's a final score in many games, let alone the point total at halftime, so who could blame Pitt fans for deciding to take the afternoon off? After all, Oklahoma State scored 28 points in the second quarter alone. Sure, Pitt put up two touchdowns of its own in an effort to at least stay in the same universe of the Cowboys, but this thing was certainly over at halftime.
Heck, it may have been over before it even started.
That's a desperate feeling as a fan and certainly for a tough spot for a team to be in. You never admit it out loud, but sometimes it's best to tune out, lick your wounds and come back stronger than ever next week. That's undoubtedly what many Pitt fans were feeling at the halftime break, but no athletic department wants empty seats — so Pitt pulled the ultimate power move.
Free drinks:
Imagine the excitement of being a Pitt student and seeing that sign flashed on the big screen. All of a sudden Little John starts screaming "shots" in your head and you start planning your post-game grub situation.
Of course, that's only to remember the fact that this is a college game and a college campus. Pitt wasn't going to be handing out crunk juice anytime soon. If the best you can hope for is a free Dr. Pepper, perhaps the best move is to go home — and that's likely what went through the minds of most Pittsburgh students at that game today.
Note: At the time of this writing Pitt was losing to Oklahoma State, 56-14, midway through the third quarter.