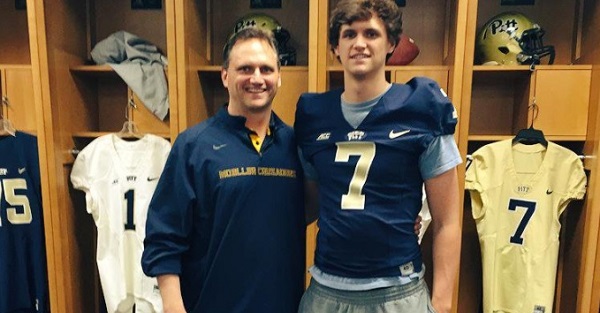 Thomas MacVittie/Twitter
One of the top prospects of the 2016 recruiting class will be moving on from his current school.
On Tuesday, Pitt quarterback Thomas MacVittie announced that he would be transferring following two seasons at the school.
It's been a great 2 year playing football at the University of Pittsburgh. I will cherish many memories made with my teammates and coaches throughout this time.

I want to thank the coaching staff at Pitt. Coach Narduzzi, Coach Watson, Coach Canada, Coach Andrews/the weight room staff and Keith Davis and the advisors at the Pete for tehir time in developing me as both a player and a person. I will always have a big place in my heart for PITT.

I will be transferring in January after having completed my redshirt freshman year. I'm excited to continue my journey and looking forward to the next three years of this great game.
MacVittie was highly touted by the 247Sports player rankings in 2016, where he ranked as a four-star and as the No. 8 pro-style quarterback in the nation. MacVittie had committed relatively early in the process when he wasn't as highly-rated, so it will be interesting to see which schools reach out to him the second time around.