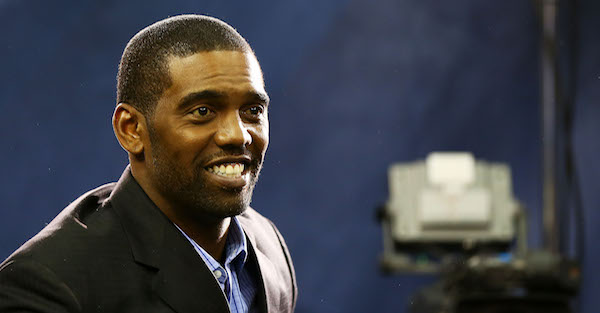 Elsa/Getty Images
NEWARK, NJ - JANUARY 28: Former NFL player Randy Moss attends Super Bowl XLVIII Media Day at the Prudential Center on January 28, 2014 in Newark, New Jersey. Super Bowl XLVIII will be played between the Seattle Seahawks and the Denver Broncos on February 2. (Photo by Elsa/Getty Images)
Thaddeus Moss produced at a relatively solid level during his first season with the N.C. State Wolfpack. The freshman tight end reeled in six passes for 49 yards while appearing in seven games and, given that it was his first year on campus in general, that was a pretty good debut.
However, the son of future NFL Hall of Fame wide receiver Randy Moss won't be sticking around Raleigh for the long haul, as he took to Twitter this week to announce on his transfer from the program.
Moss, who stands at 6'3 and 240 pounds, was not necessarily a top-flight recruit coming out of high school at Mallard Creek in Charlotte, but he was a three-star prospect that was worthy of a scholarship in the ACC. It is too far early to say when it comes to where he will land next, but N.C. State must move forward without a potentially valuable member of their tight end group for the 2017 season and beyond.
It would be (wildly) unfair to compare Thaddeus Moss to his father in terms of playing acumen, but he still has a few years of eligibility remaining to make a name for himself in the world of college football.