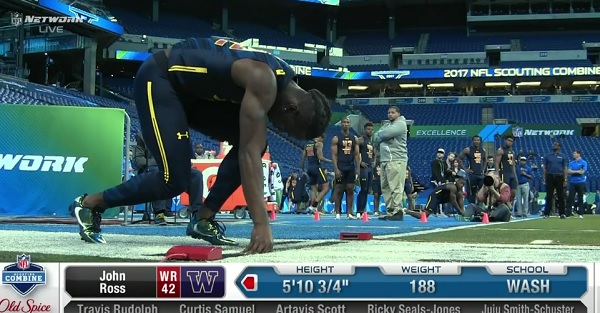 Clippit/Screenshot
Adidas made a big show about the NFL Combine this year, advertising that they would give away an island to the draft prospect that broke Chris Johnson's 40-yard dash record.
Of course, that proposal came with a caveat, and that's why Washington's John Ross — who officially broke the record with a 4.22 — won't get it.
According to the Adidas proposal, the prospect had to agree before hand and had to be wearing Adidas cleats as the broke the record. It makes sense, of course; you don't want to give away a million-dollar island to an athlete that's not wearing your gear. That said, it is kind of lame that they made a big deal about this island, and then almost no one agreed to their terms of wearing Adidas cleats.
Step your game up, Adidas.
Ross apparently didn't care for the "loss", citing that he was a bad swimmer anyways.
I guess no harm, no foul here. Ross is going to get a big payday and rise up Draft boards with his performance at the Combine on Saturday.
[H/t 247Sports]