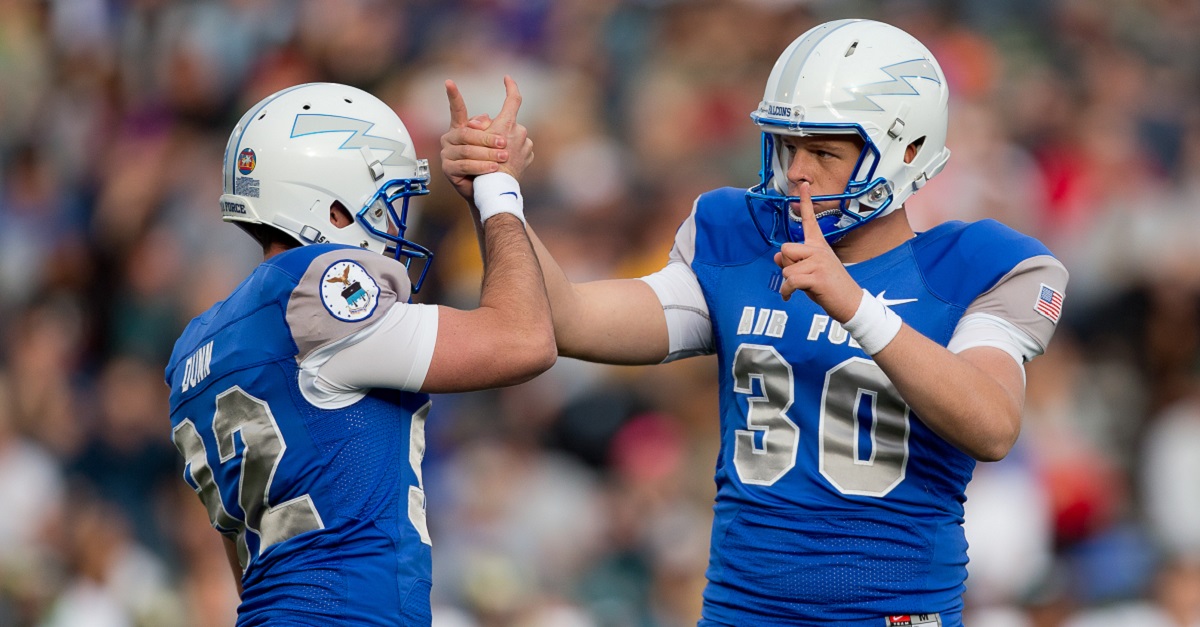 Justin Edmonds/Getty Images
COLORADO SPRINGS, CO - NOVEMBER 28: Place kicker Will Conant #30 of the Air Force Falcons celebrates with holder Brett Dunn #92 of the Air Force Falcons after successfully making a field goal during the second quarter against the Colorado State Rams at Falcon Stadium on November 28, 2014 in Colorado Springs, Colorado. (Photo by Justin Edmonds/Getty Images)
There's plenty of motivation when it comes to stepping on the football field and producing. But for the Air Force, they'll trot out shark teeth uniforms this season, a tribute to the "Flying Tigers" from World War II.
From CBS Sports:
The 1st American Volunteer Group of the Chinese Air Force, which included of U.S. military pilots from the Marines, Navy and Army Air Corps, was nicknamed the "Flying Tigers." The group's sharktooth design on the nose of the fighter plane (a Curtis P-40) is recognizable as a symbol of the country's involvement in World War II and a tribute to the brave Americans that fought alongside the Chinese as members of their military. Only active for about seven months, the Flying Tigers are still popping up, and this fall it's in Colorado Springs.
Air Force hosts Georgia State on September 10, when they'll truly unveil these sick uniforms.