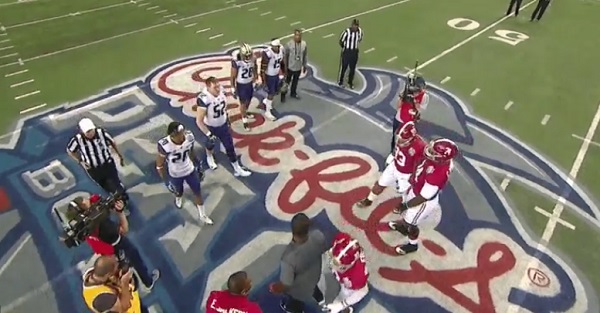 Twitter/@11W
Get ready for all of the interpretations of this.
Prior to the College Football Playoff semifinal game between Washington and Alabama, the two teams met at midfield per usual for the pre-game coin flip. Washington won the toss, and the Husky captains then went to shake hands with their counterparts.
The Crimson Tide captains didn't look like they had any plans for a pre-game handshake, and they went back to their sideline almost immediately while leaving the Washington players hanging.
It doesn't seems like much, but social media went aflame at Alabama disrespecting the Huskies with the move.
Of course, the Alabama players probably didn't intentionally leave the Huskies hanging. The two teams met at the middle prior to the coin toss, and the guys were likely ready for the start of the game. However, that's not stopping a lot of people from taking shots at the Crimson Tide for a perceived lack of respect.