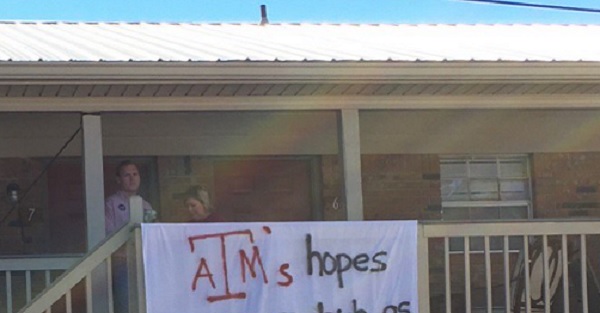 Twitter/Kyle Tucker
Well, it is gameday, which means nothing is sacred when taking shots at your opposing team or rival.
Some Alabama fans did just that on Saturday, as they are preparing for their No. 1 ranked Crimson Tide to take on No. 6 Texas A&M. Their preparation? This sign, proclaiming that Texas A&M's hopes are "as high as Johnny Manziel".
Yikes.
RELATED: Virginia Tech fans hung an incredibly insensitive and disgraceful sign ahead of contest with Miami
Of course, Manziel has had well-known sobriety issues since leaving A&M, so this one may cut deep for some fans of Manziel and the Aggies.
Alabama and A&M are set to play Saturday at 3:30 p.m. ET on CBS.
[H/T SEC Country]