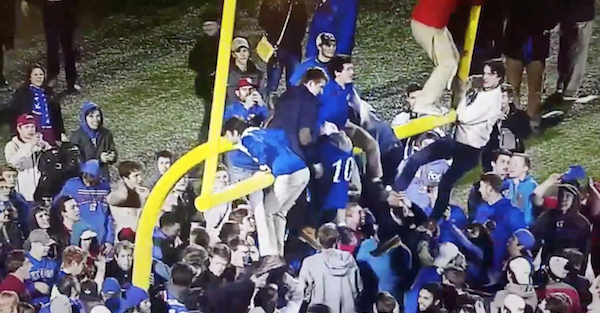 Kansas defeated Texas 24-21 on Saturday, and it was the first time the Jayhawks had beaten the Longhorns since 1938.
Related: Texas apparently just made things even more awkward with Charlie Strong
Kansas fans were understandably ecstatic with the victory, especially considering it was only Kansas's second win of the season. Fans tore down one of the goalposts, although they had to exert a considerable amount of effort to get the goalpost down.
Kansas coach David Beaty was hoisted on his players' shoulders in the locker room after the game. Beaty went 0-12 in his first season as the Jayhawks' head coach, and he has Kansas at 2-9 this season.
The loss to Kansas might spell the end of Charlie Strong's tenure at Texas. The Longhorns need to defeat TCU to become bowl eligible.
(h/t For The Win)