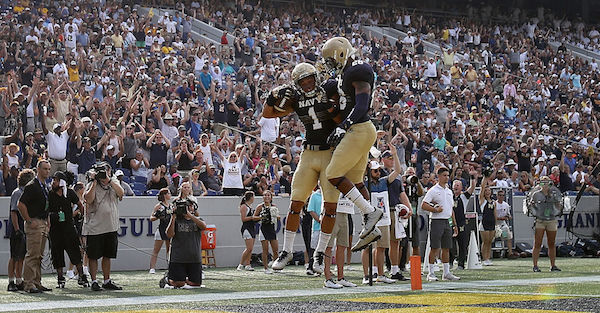 Rob Carr/Getty Images
ANNAPOLIS, MD - SEPTEMBER 10: Safety Alohi Gilman #1 of the Navy Midshipmen celebrates with Daiquan Thomasson #26 after Gilman returned a fumble for a second quarter touchdown against the Connecticut Huskies at Navy-Marine Corps Memorial Stadium on September 10, 2016 in Annapolis, Maryland. (Photo by Rob Carr/Getty Images)
One of the biggest shockers this college football offseason was Navy defensive back Alohi Gilman's decision to transfer away from the Midshipmen.
Gilman announced his decision via Twitter, but he didn't reveal where he planned to transfer to. Now we know, as Gilman is heading to Notre Dame that was confirmed on the official Notre Dame website.
Via UND.com:
"I?m extremely grateful to be a part of the Notre Dame family,? Gilman said in a release to the University of Notre Dame. "I?m thankful to the coaching staff and the man above for not only believing in me, but also providing this opportunity. I?m excited for this next chapter in my journey."
Many speculated that Gilman might be heading west, possibly for Utah or Nevada, and other schools on the West Coast that recruited him in high school. Instead, Gilman is joining an already loaded Brian Kelly squad and a defense that could really use him.
Now, even though Gilman isn't transferring to a D-2 school, there is reportedly still a possibility he doesn't have to sit out for the Fighting Irish this fall, which is what usually happens. And, although, the press release states he won't be eligible to play until the 2018 season, 247Irish is reporting that he could still be granted a waver to play immediately for the Fighting Irish.
Gilman started 12 of 14 games for the Midshipmen last season.