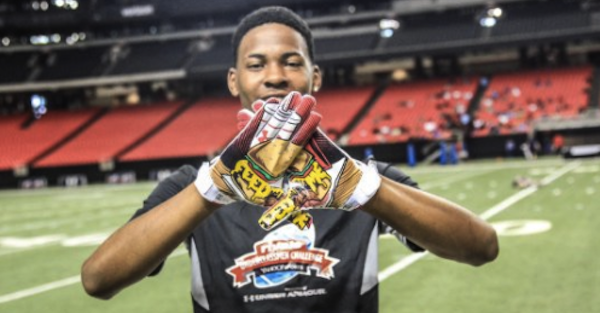 Twitter/@jashonPerkins
UPDATE: This story was originally written when it was just three… now it's four.
Four-star wide receiver John Dunmore has also announced his commitment to the Florida Gators, making it their fourth commit of the weekend:
**original story below**
---
Jim McElwain and the Florida Gators have been quite active on the recruiting trail in recent days and that is doubly true over the last 24 hours. Over that single day, McElwain and his staff managed to pick up three commitments to the program and the third of those came in the form of 2019 ATH prospect Jashon Watkins.
The 6'4, 195-pound prospect from East Nashville Magnet School (Tenn.) announced his commitment on Friday.
In short order, McElwain "confirmed" the pledge and general excitement about his recruiting wins in the recent past.
Watkins joins fellow 2019 prospect Tyrique Stevenson in committing to the Gators very early and the 2019 group is shaping up to be very strong in Gainesville. In fact, this addition makes Florida the No. 2 ranked class in the country for 2019 according to 247Sports and it is never too early to get excited about that kind of potential infusion of talent.
2018 offensive tackle recruit Jalen Goss also announced his commitment to Florida on Friday.
Because recruiting services are justifiably focused on 2018 more so than 2019 at this juncture, there is some split analysis with regard to Watkins but he has the physical tools that you would want to see in a prospect and Scout reports that he "chose UF over other offers from: Kentucky, Ole Miss, Tennessee, Oklahoma and Vandy." This was a (very) good day for Jim McElwain and it is safe to assume that it won't be the last.