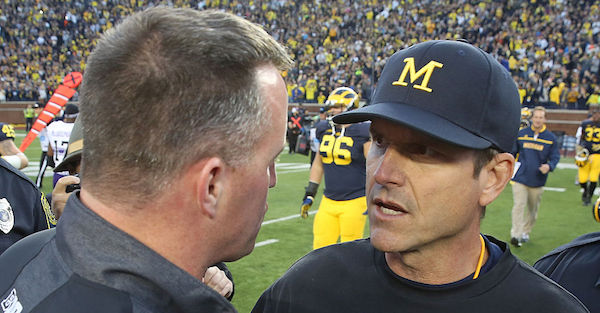 Leon Halip/Getty Images
ANN ARBOR, MI - OCTOBER 10: Northwestern Wildcats head coach Pat Fitzgerald and Michigan head coach Jim Harbaugh meet after the game on October 10, 2015 at Michigan Stadium in Ann Arbor, Michigan. The Wolverines defeated the Wildcats 38-0. (Photo by Leon Halip/Getty Images)
Last year, the Big 10 signed a multiyear, multimillion dollar conotract extension with Fox and ESPN for broadcasting rights. As a part of the deal, the Big 10 agreed to air Friday night games for next season and in the future.
Northwestern was scheduled for two of those games next season, but coach Pat Fitzgerald did not want his team playing on Friday nights. So he complained to the Big 10, and the Big 10 listened to him.
Related: An unlikely team has cracked the Top 10 in the recruiting rankings 
Fitzgerald said the Friday night games would interfere with his players' school schedules, and fans argued it would also be tougher for them to make it to games due to Friday traffic. Fitzgerald also cited high school football having its games on Friday nights as a reason why Northwestern shouldn't play on those nights.
The Wildcats were scheduled to travel to Maryland on Friday, Oct. 13, and they were supposed to host Michigan State on Friday, Oct. 27. Those games will presumably take place on Saturday now.
Illinois will play two Friday night games, and Rutgers and Purdue will also play Friday night games against non conference opponents.
Michigan and Penn State also indicated they don't want to play on Friday nights.
Friday night exposure should be a good thing for some programs. It's understandable why the major programs in the conference wouldn't want to play on Friday nights, and Fitzgerald has good reasoning for not wanting to host a Friday night game. It will be intriguing to see if other Big 10 schools follow suit in the future.
(h/t College Football Talk)