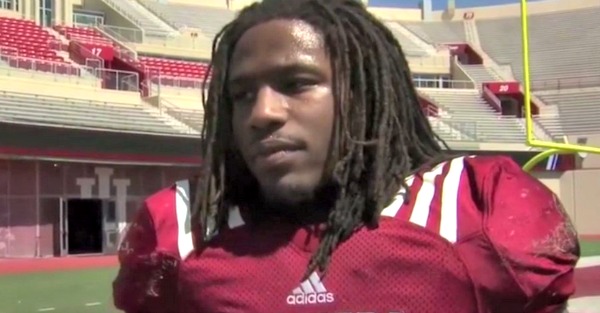 Arrest Nation via Twitter
Antonio Allen once had tremendous promise on the football field. As a sophomore for the Indiana Hooisers, he led his team is tackles, according to his IU bio. As a junior, in 2014, coaches and members of the media named him to the All Big-Ten team as an honorable mention.
But now, Allen's life has descended into a sad tale of drugs, jail and arrested, and now he find himself on the wrong side of the law again.
Allen, now 22, was arrested Thursday for violating his probation, police told the Indianapolis Star. Police say they found Allen at his workplace with a .22 caliber handgun that contained armor-piercing bullets.
Allen, in 2015, has pleaded guilty to two felony drug charges. Authorities caught him, on tape, giving drugs to a police informant. When police searched the premises, the found cocaine and heroine, and a .45 caliber handgun.
At the time of his sentencing, Allen told the court that he was sorry and he was a changed man.
"First of all, I would like to say sorry to my friends, my family, my coaches," he said, his voice breaking, according to the Star. "I had a lot of opportunities to get away from the lifestyle I chose, but I was in need of money. … I've woken up and am showing that I am a better person."
While prosecutors asked fir a sentence of 22 years, Allen was sentenced to four years house arrest and was order to do community service and hold a job.
In addition to the probation violation, Allen faced charges of carrying a firearm as a serious violent felon and resisting law enforcement, thee Star reported.