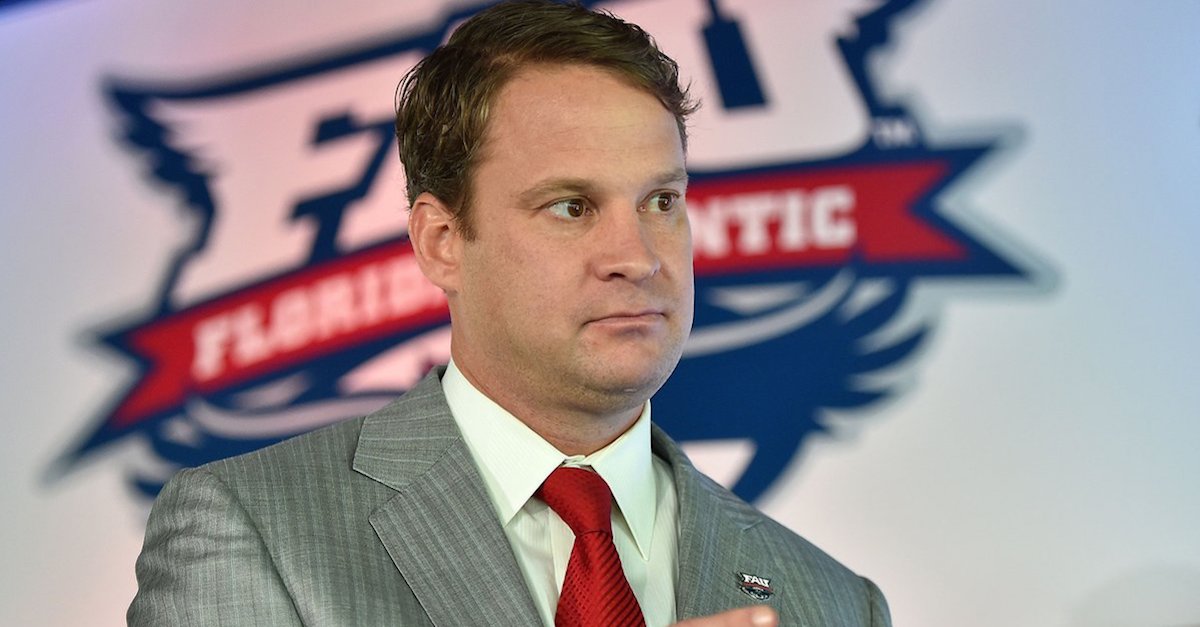 @CBSSportsCFB/Twitter
@CBSSportsCFB/Twitter
Months after he was fired at Baylor, former head coach Art Briles is now serving as an "informal advisor" to Lane Kiffin's FAU, per the Sun Sentinel.
Kendal Briles, Art Briles' son, is the offensive coordinator at FAU, serving under Kiffin's first tenure.
"Obviously, he has ideas," Kendal said. "He wants to know personnel and different guys and making sure we're getting those guys in the right spots and getting them touches and all that stuff. He's a football coach, that's all he's ever been. He's definitely involved and we talk daily."
While he's serving in the informal capacity, Art Briles has reportedly not been on campus. Kendal said he's sent film to his father and Kiffin has spoken to him "a couple times."
This normally wouldn't be a big deal, but Kiffin taking his Last Shot U mentality to even associating himself with Art Briles is not the type of look he should be aiming for at his fresh start.
Baylor made a decision to fire Art Briles after plenty of controversy had taken over the Bears football program.
Soon after the decision was announced, the school released a presser detailing the reasons the school took the steps it did.
Included, was a shocking few paragraphs that detailed the football coaches and staff took steps to disclose the sexual assault or dating violence allegations, thus not allowing the University to take the proper steps. Because the coaches did this, it reportedly "discredited" complaints and denied the accusers a right to "a fair, impartial and informed investigation."
Here's the entire section, via the report, per College Football Talk:
"Baylor failed to take appropriate action to respond to reports of sexual assault and dating violence reportedly committed by football players. The choices made by football staff and athletics leadership, in some instances, posed a risk to campus safety and the integrity of the University. In certain instances, including reports of a sexual assault by multiple football players, athletics and football personnel affirmatively chose not to report sexual violence and dating violence to an appropriate administrator outside of athletics. In those instances, football coaches or staff met directly with a complainant and/or a parent of a complainant and did not report the misconduct. As a result, no action was taken to support complainants, fairly and impartially evaluate the conduct under Title IX, address identified cultural concerns within the football program, or protect campus safety once aware of a potential pattern of sexual violence by multiple football players.

In addition, some football coaches and staff took improper steps in response to disclosures of sexual assault or dating violence that precluded the University from fulfilling its legal obligations. Football staff conducted their own untrained internal inquiries, outside of policy, which improperly discredited complainants and denied them the right to a fair, impartial and informed investigation, interim measures or processes promised under University policy. In some cases, internal steps gave the illusion of responsiveness to complainants but failed to provide a meaningful institutional response under Title IX. Further, because reports were not shared outside of athletics, the University missed critical opportunities to impose appropriate disciplinary action that would have removed offenders from campus and possibly precluded future acts of sexual violence against Baylor students. In some instances, the football program dismissed players for unspecified team violations and assisted them in transferring to other schools. As a result, some football coaches and staff abdicated responsibilities under Title IX and Clery; to student welfare; to the health and safety of complainants; and to Baylor's institutional values."
Art Briles served as a head coach at Houston and Baylor over 13 seasons. He was reported as a candidate for Houston as head coach and Auburn as offensive coordinator. Houston released a statement saying Art Briles was not a candidate, and he did not get the Auburn job.