If you're interested in college football only when it affects Big 12 members, this FanBuzz page is for you. Our writers deliver breaking news during the college football season and beyond. Stay up to date on commitment announcements, coaching changes, rankings, game scores and more Big 12 college football news and highlights here.
In 1994 the Big Eight Conference announced that it would dissolve after its members reached an agreement with the Southwest Conference to form a new conference. Initially comprised of all of the former Big Eight members and four former Southwest Conference, the Big 12 was founded in 1996. That year, in the conference's first game Kansas State defeated Texas Tech 21-14. Current members of the conference include Baylor University, Iowa State University, University of Kansas, Kansas State University, University of Oklahoma, Oklahoma State University, Texas Christian University, University of Texas at Austin, Texas Tech University and West Virginia University. In addition to its 10 members, the conference represents 12 affiliate members in wrestling, gymnastics and rowing. The Big 12 Conference is headquartered in Irving, Texas. Bobby Bowlsby is the current commissioner.
The Big 12 Conference is a member of the Division 1 of the Football Bowl Subdivision of the NCAA, which features the most competitive teams in college football. Other popular conferences include Big Ten, ACC, Pac 12 and SEC. Unlike the other "Power 5" conferences, each member of the Big 12 plays all of the other conference members during the regular college football season.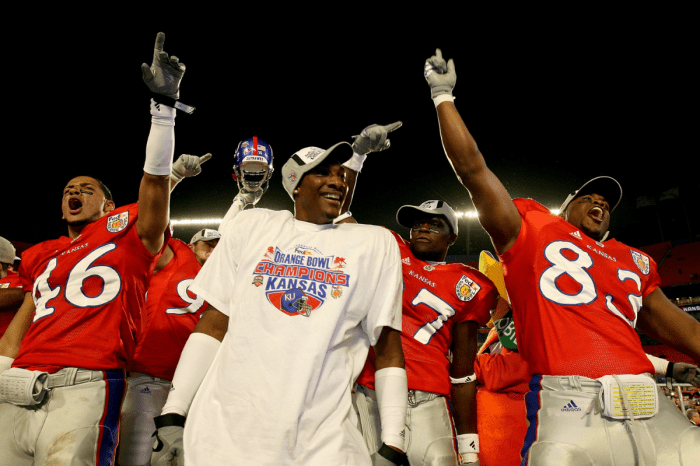 Big 12
The Mystery Behind Kansas Football's Unexpected 12-1 Season in 2007
The year 2007 was the one you didn't want to be the No. 2 ranked team in college football. The…