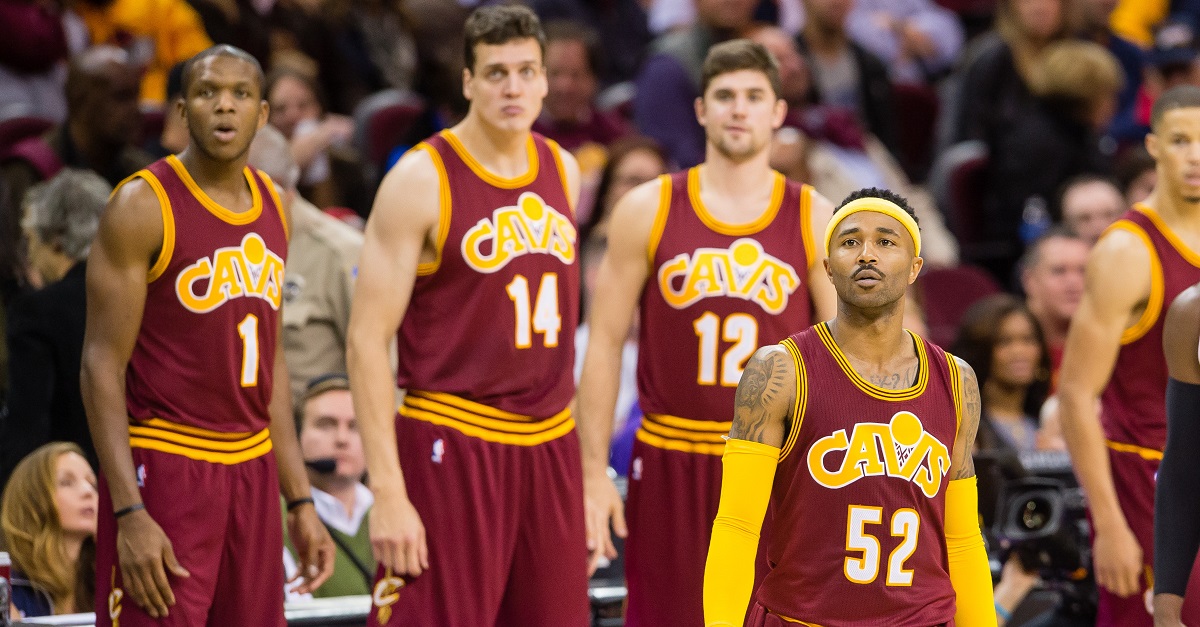 CLEVELAND, OH - OCTOBER 30: James Jones #1 Sasha Kaun #14 Joe Harris #12 and Mo Williams #52 of the Cleveland Cavaliers watch the score board during the second half against the Miami Heat at Quicken Loans Arena on October 30, 2015 in Cleveland, Ohio. The Cavaliers defeated the Heat 102-92. NOTE TO USER: User expressly acknowledges and agrees that, by downloading and or using this photograph, User is consenting to the terms and conditions of the Getty Images License Agreement. (Photo by Jason Miller/Getty Images)
If you're a real Cleveland Cavaliers then you know everyone on the roster, right? You know James Jones, Mo Williams, Dahntay Jones, Channing Frye and surely you've heard of Sasha Kaun. The Kansas alum won a title his senior year in 2008 and in his only year in the NBA he won another title.
RELATED: LeBron admits he can't win a title without this school's alumni
LeBron James even admitted that he always needs a Kansas guy to win a ring — like Mario Chalmers with the Heat — so you can pretty much bank on James not repeating this year. Kaun said he isn't retiring because he got his ring though. It's actually a medical reason.
Kaun said he started thinking seriously about retirement "toward the end of the season. I kind of feel my ankle has been bothering me awhile. With the amount of pain I was going through, I just wanted to be done. It's something I've had all my career," he added of right ankle problems. "It was definitely getting worse and worse, year by year. Especially coming here (one year in NBA after seven seasons in Moscow) … the intensity of the game I just kind of realized I don't think I can go and do it any more.

"I said, 'You know what? I'm not going to be happy playing. I'm not going to be happy not playing. I think it's a good time to call it quits."'
You can call him a ring chaser all you want, but the man knows how to pick his teams. He also played for CSKA Moscow and won five Russian League championships, five VTB United League championships and a bronze medal at the 2012 Olympic Games before making his NBA debut at 30 years old. I'd say that's a pretty nice list accomplishments to have on the resume before retiring.
[h/t CBSSports.com]