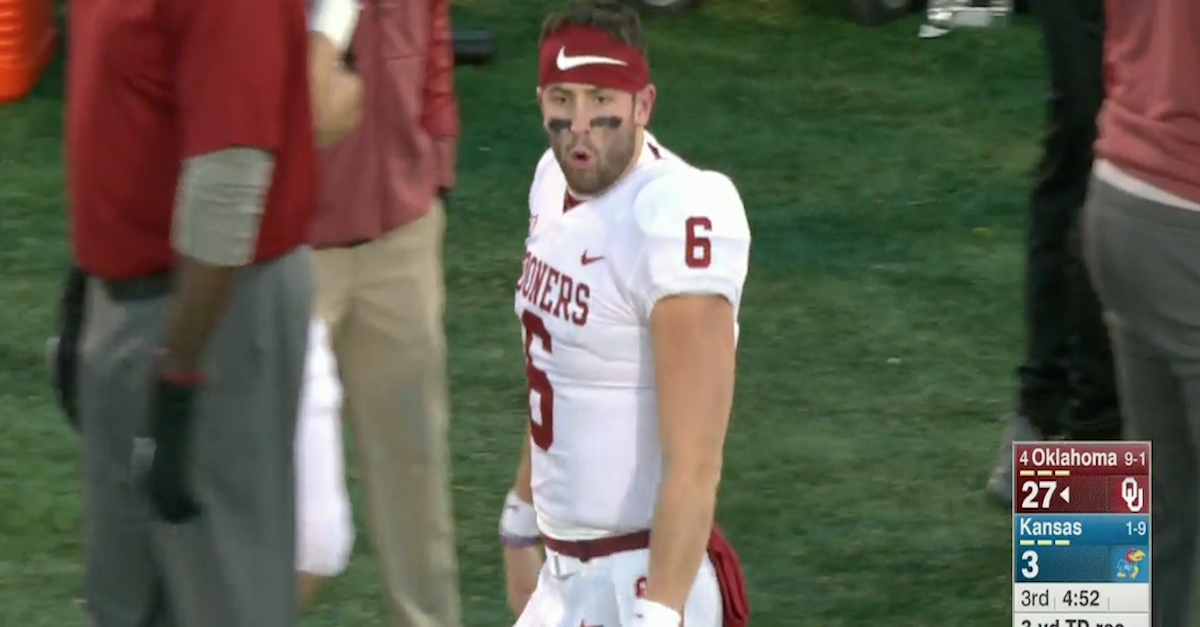 Clippit screenshot
Things got pretty chippy between Oklahoma quarterback Baker Mayfield and the Kansas Jayhawks, and that led to the soon to be NFL quarterback taking things a bit too far on the sideline.
In fact, some may say that Mayfield took it way too far, and that includes the announcers of the Jayhawks-Sooners game.
In a game that Oklahoma easily controlled, it would have been easy for Mayfield to let his play on the field to the talking. After all, the Sooners made easy work of Kansas and it's not like this was much of a contest, to begin with. Heading into the game, Oklahoma was ranked No. 4 in the nation and the Sooners are definitely in the running for the College Football Playoffs. Meanwhile, Kansas came into the game at 1-9 and winless in Big 12 play.
This was never really even a matchup, but Mayfield apparently let the Jayhawks get into his head.
It started with the coin toss when the Oklahoma quarterback tried to get a handshake and was denied. That was followed up with a blatant late hit on a Kansas defender, one that led to a penalty but was clearly intended to put Mayfield on his back — if not worse.
Things apparently boiled over for Mayfield, who reacted poorly on the sideline towards the Kansas bench. In fact, he got NSFW:
The announcers were right. That is something that NFL general managers will look at and it's certainly something that will likely come up in interviews when teams at the next level are determining whether or not Mayfield would be a worthy draft pick.
He has plenty of talent, so this one instance isn't something that will hurt him in the long-run, but this is something that Mayfield will likely have to answer for sooner rather than later.