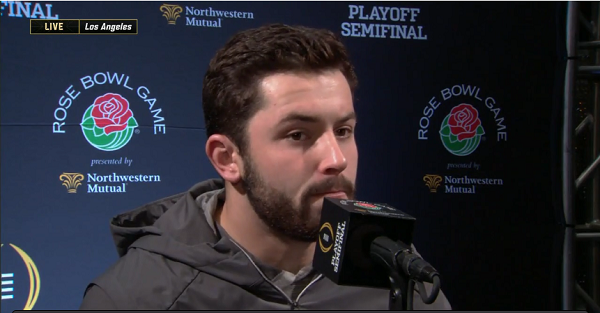 @THE_BOOMSTEIN/Twitter
@THE_BOOMSTEIN/Twitter
Oklahoma quarterback Baker Mayfield has been dealing with a pretty serious illness as he has missed the last few days of team activities and has not been made available to the media either. He was initially not going to show up for a scheduled media appearance, but that changed later in the morning.
And you can tell he sounds a bit sick too from the way he answered questions. His voice isn't quite the same and was a little more succinct in his answers:
He also revealed why he ended up showing up after it was reported he would miss the activities:
While he is apparently doing better than he was a few days ago, he still sounds a bit rough. He has another day to get better though before he has to get on the field and perform against a stout Georgia defense. The Rose Bowl is set for a 5:00 p.m. kickoff on New Year's Day.