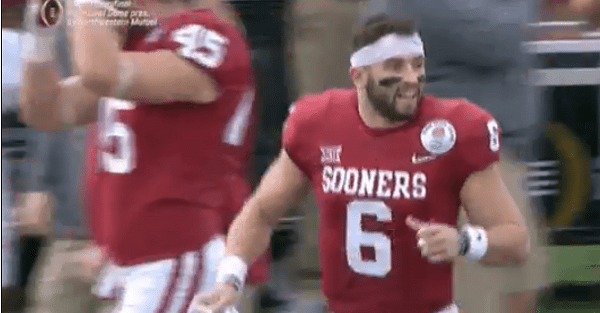 @SInow/Twitter
@SInow/Twitter
It didn't take long for Baker Mayfield to make an impression during the Rose Bowl. Following a missed field goal attempt by the Georgia Bulldogs, one of the nation's most polarizing gunslingers decided to go a little vintage Undertaker on a college football loving country.
Mind you, that was only in the first quarter of the Rose Bowl. There was still a ton of game left to be played.
Mayfield had himself an electric first half. By the time the first two quarters were all said and done, the senior tossed it around for 200 yards, with one of those going for a touchdown. It also happened that none of his passes were intercepted and that he completed 13 of his 18 attempts.
To be fair to the Bulldogs, Mayfield also attempted to "rush" the ball four times, and somehow only managed to earn negative yardage (-6). So, um, yes … there was a silver lining in that otherwise gloomy cloud.
Mayfield dealt with flu-like symptoms leading up to the Rose Bowl, making his performance even more amazing. The quarterback entered the semifinal with the second-most passing yards (4,340) and passing touchdowns (41) in the country.
When the first half was finally over, Oklahoma was up big on Georgia, leading 31-17 and Mayfield had even caught a touchdown.