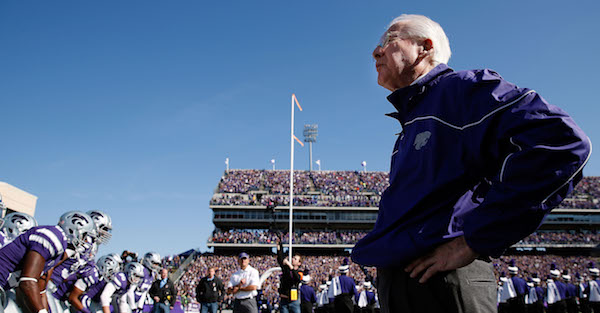 Jamie Squire/Getty Images
during the game at Bill Snyder Family Football Stadium on October 27, 2012 in Manhattan, Kansas.
College Football Hall of Famer Bill Snyder has been diagnosed with throat cancer according to ESPN, but still plans on coaching the team and says he will be on the sideline for the start of spring practices. The 77-year-old coach was hospitalized over the weekend, per Kansas.com.
He released this statement about his health on Monday:
"I have been diagnosed with throat cancer and have been receiving outpatient treatment at the KU Medical Center for about three weeks and am getting along very well. The doctors and staffs at both KU Med and M.D. Anderson [in Houston] have been great; working so very well together to finalize the overall treatment plan which is being conducted in Kansas City. Both 'teams' have projected a positive outcome and have worked out a schedule that allows me to be in Kansas City for my regular treatments and still be back in the office on a regular basis through the first week of March."
After assistant coaching stints across the country, Snyder took the Kansas State job in 1989. He retired in 2005, when Kansas State named their stadium after the legendary coach, Bill Snyder Family Football Stadium.
He returned in 2009 and inked a five-year deal in 2012. Snyder is 202-105-1, with an 8-10 bowl record over his near-25-year career.
Snyder's team has won the Big 12 title twice, and he's taken home just about any individual coaching award possible, from Big 12 Coach of the Year, to AP Coach of the Year.
[h/t ESPN]