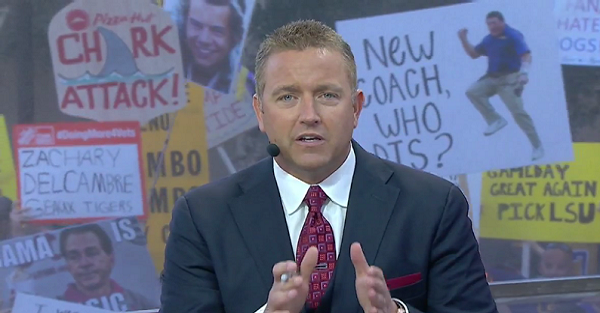 ESPN/Screenshot
A lot of analysts are expecting Oklahoma or Oklahoma State to win the Big 12 this year. Don't include ESPN's Kirk Herbstreit among those, though.
Herbstreit has been predicting TCU to score the upset and with the Big 12 this year, and with his final predictions before the major start of college football this coming weekend, Herbstreit stuck with his prediction of picking the Horned Frogs.
With the Big 12 reinstating their conference championship game this season, there is a good chance that TCU could end up playing spoiler for one of the Oklahoma teams. TCU also pulling off an upset would be a great deal of irony for the Big 12 after they have been attempting to find ways to get back into the College Football Playoff.
Herbstreit has the usual predictions for the remaining Power 5 conferences, with Alabama, USC, Florida State, and Ohio State being his remaining conference champion picks. Herbstreit has also gone on record predicting Ohio State to beat Alabama in this year's national title game.