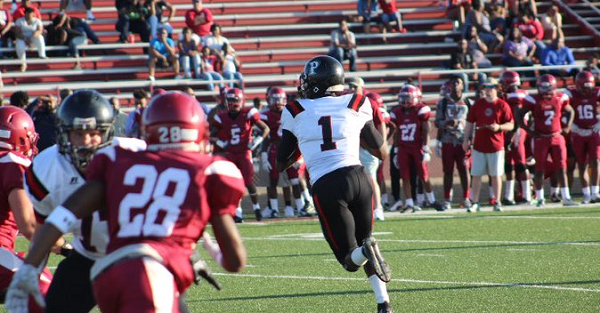 Twitter/@_justinrogers
Justin Rogers is a four-star dual-threat quarterback out of Bossier City, La. and while he does hold an offer from the in-state Tigers, he's also got some other big-time offers. That includes Oregon, Tennessee, Arkansas, Arizona, Baylor, Georgia and Houston among a bunch of others.
However, he has two schools that are definitely on top as he told 247Sports. He's got in-state LSU as well as one other surprise school.
"I probably have the best relationship with Coach (Sonny) Cumbie at TCU," Rogers said. "He took the family route with me. He actually talks to my brother and my mom more than he does to me. He is truthful and has never lied. TCU has been recruiting me since the beginning. That's why they are up there.

"I have a great relationship with Coach (Matt) Canada at LSU. I also have a great relationship with Coach O (Ed Orgeron). They have been there from the beginning, too. I like how they have one team, one heartbeat. I love everything that Coach O is doing there. I just have a great relationship with those guys."
He also listed Louisville and North Carolina as serious contenders as well as a couple other schools that he keeps in contact with every so often.
"I still talk to Coach (Butch) Jones at Tennessee every other day," Rogers said. "They are still in it. Harvard is Harvard. It was one of those things I couldn't believe when I got the opportunity to play there."
The 6'4″, 203-pound Rogers is rated as the No. 3 recruit in the state of Louisiana and the No. 6 dual-threat quarterback in the country by 247Sports. The 247Sports crystal ball gives him a 69 percent chance of landing with the Horned Frogs while the other 31 percent belongs to LSU.
Here's some of his highlights: