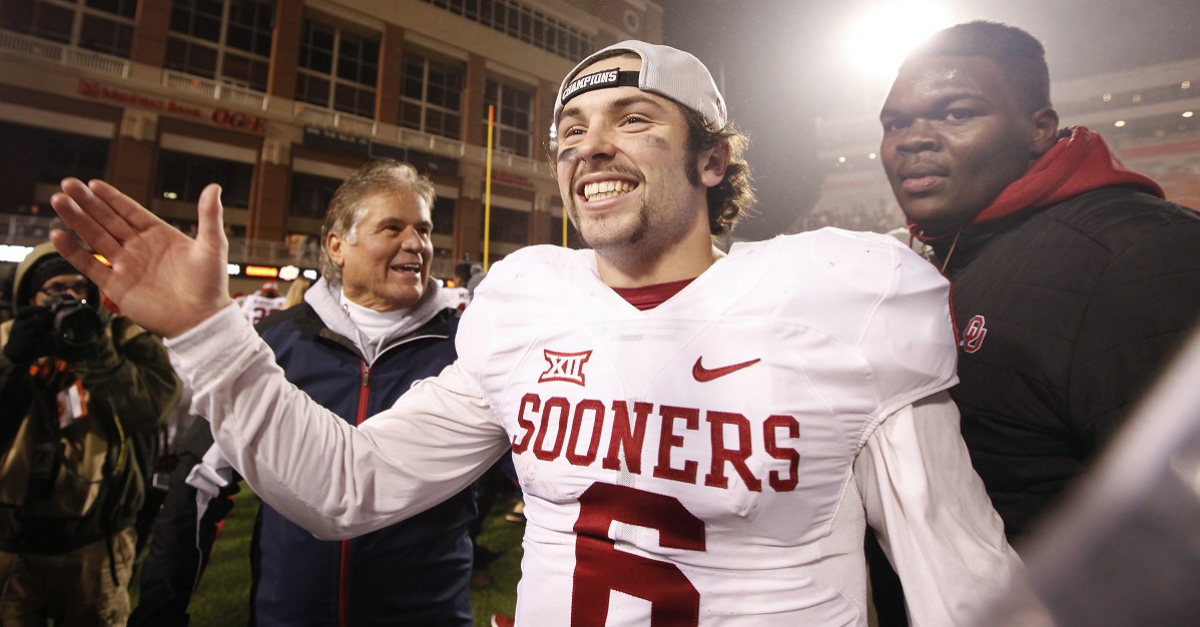 STILLWATER, OK - NOVEMBER 28 : Quarterback Baker Mayfield #6 of the Oklahoma Sooners celebrates after the game against the Oklahoma State Cowboys November 28, 2015 at Boone Pickens Stadium in Stillwater, Oklahoma. Oklahoma defeated Oklahoma State 58-23.(Photo by Brett Deering/Getty Images)
After it initially looked like the Big 12 was going to avoid passing the "Baker Mayfield rule", the conference reversed course today and passed the rule by a vote of 7-3.
The rule will allow walk-on players to transfer within conference without having to forfeit a year of eligibility. The rule benefits the titular Mayfield — the Oklahoma starting quarterback and 2016 Heisman candidate — from where he originally transferred as a walk-on from Texas Tech to Oklahoma. Mayfield will now be eligible to play for the Sooners in 2017 should he choose to do so.
Overall, this rule change is a benefit to college football players. If players are not on scholarship at one school, why should they be penalized by transferring to a school that may offer them a scholarship?
RELATED: Baker Mayfield comes back at Paul Finebaum after blowout burn
Heck, even the player's current school will have the chance to offer that player a scholarship to prevent him from leaving. If the player chooses to leave after that, then they will lose a year of eligibility.
Seems like a win-win here.