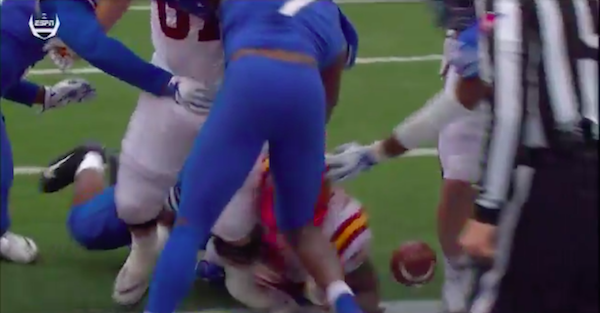 @SInow/Twitter
@SInow/Twitter
Iowa State lost its first fumble of the season at the absolute worst time possible.
Ahead 21-20, the Cyclones coughed up the football during a potential game-securing touchdown within the final minutes of the fourth quarter of Saturday's Liberty Bowl against Memphis.
Running back David Montgomery looked to have broken the plane of the end zone before losing control of the football, but officials ruled otherwise and gave possession to the Tigers.
Fortunately for Iowa State, it managed to hold on to a 21-20 lead and earn the victory, despite the close call on the goal line.
The Cyclones made it through an NCAA record 12 games without a fumble during, which tied Northern Illinois' record set in 2004 and would have had sole possession of the record had they avoided one in Saturday's bowl game.
Iowa State defeated Memphis, 21-20, to finish with an 8-5 (5-2 Big 12) overall record in 2017.