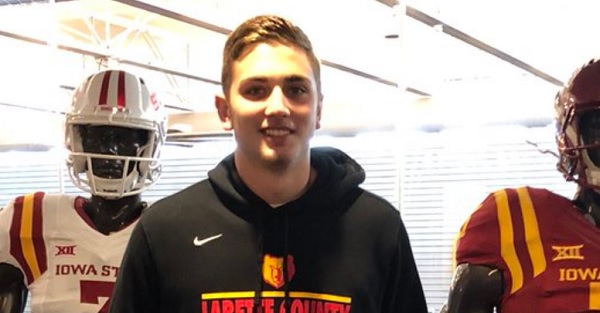 Twitter/Easton Dean
The 2018 recruiting class is essentially set in stone, but that doesn't mean the commitments have stopped. Teams are now moving on to the 2019 recruiting class, and one of the top recruits of that class took his name off the board this weekend.
On Saturday, dual-threat quarterback Easton Dean (6-foot-6, 220 pounds, Altamont, KS) announced that he had committed to Iowa State.
Honored to announce my commitment to continue my football and academic career at Iowa State University! I would like to thank my family, teammates, and coaches, as well as all those who have been with me the whole ride!!!#Cyc19neStandard
Iowa State's Kyle Kempt was recently granted a sixth year of eligibility, so the Cyclones will have a likely starter for next season. However, they will need a plan for seasons beyond that, and Dean could prove to be that guy once he is on campus in 2019.
Iowa State had a solid season in 2017 with an 8-5 record. They will hope to build on that in 2018, as the Cyclones have not had back-to-back winning seasons since 2004-2005.