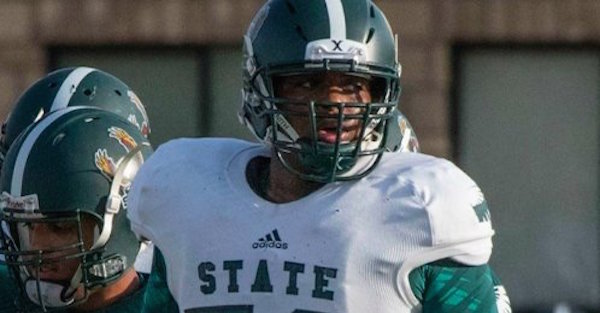 @SleeperRecruit/Twitter
@SleeperRecruit/Twitter
Unsigned 6-foot-6, 300-pound offensive lineman prospect Jalan Robinson provided an update on when he'll be signing with his college program of choice after opting not to do so on National Signing Day.
"I'm going to OU today/this weekend for an unofficial (visit) and that's gonna be my last one," Robinson told 247Sports. "I'm gonna decide early next week."
The unrated prospect took an official visit to Western Illinois and Kansas after receiving a blue-shirt from the Jayhawks, but suddenly received attention from other Power 5 schools after that.
Robinson has since received offers from Mississippi State and Nebraska, as well as having planned official visits to both schools late in his recruitment. Kansas responded by upgrading its offer to a full ride scholarship.
This led to Robinson delaying his final decision beyond the traditional signing day deadline, as he'll make one final official visit before announcing his ultimate decision. It's worth noting that Oklahoma has yet to extend an offer, but that could change during his trip to Norman.