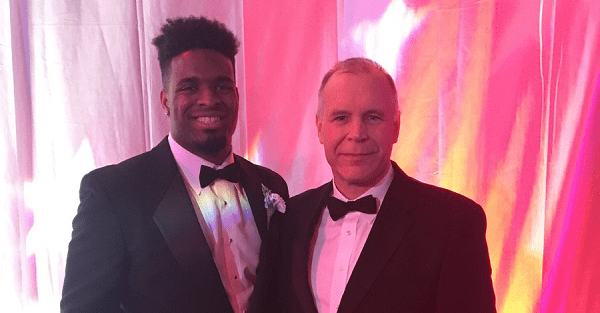 @CoachJimKnowles/Twitter
@CoachJimKnowles/Twitter
Jim Knowles has left the Duke Blue Devils to take the defensive coordinator position with the Oklahoma State Cowboys. He held the same role with the Blue Devils.
Oklahoma State head coach Mike Gundy made it official, at least in terms relative to 2018, on the mean streets of Twitter.
Earlier this month, Gundy fired defensive coordinator Glenn Spencer. Even though Oklahoma State's defense had been less than swell, it was a bit of a shock that Spencer was let go, as he was at Gundy's side for 10 years.
Knowles was the defensive coordinator at Duke during his time with the Atlantic Coast Conference program.
This is an important hire by the Cowboys. As mentioned earlier, they weren't exactly the 1985 Chicago Bears on defense. This past season, the Oklahoma State defense finished 85th nationally in scoring at 29.4 points per game.
To be somewhat fair, the Big 12 is an insanely pass-happy league, which features very few programs capable of stopping opposing teams from getting all the points. At the same time, Oklahoma State gave up 44 points to TCU, 62 to Oklahoma and 54 to Kansas State.
For those uncertain how math works, those are objectively awful numbers.
Knowles is being brought in to hopefully change that.