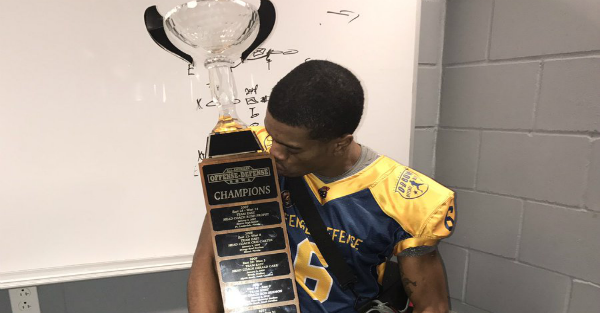 @ScatesJoseph/Twitter
@ScatesJoseph/Twitter
Wide receiver Joseph Scates, a four-star prospect out of the 2018 recruiting class, has committed to the Iowa State Cyclones. This is a relative surprise, as the Cyclones aren't exactly know for their college football dominance.
Then again, this is the third time head coach Matt Campbell had a crack at improving the Big 12 program, and he appears to be growing into the role of top-notch talent acquirer.
?I want to thank Coach (Campbell), (Bryan) Gasser and (Alex) Golesh for all of the Love the time & Care they?ve invested in me since day one,? Scates wrote on Twitter. ?When times gotten tough They stuck by my side & Never gave up on me.

?I?d like to proudly announce that I am 100% committed to Iowa State University Go Cyclones #CycloneNation?
Scates was actually originally committed to the Michigan State Spartans. While he appeared set to join MSU last January, he actually decommitted the following month.
The timing of this commitment isn't too shocking. Scates visited Iowa State over this past weekend. Whatever the Cyclones were selling, the wide receiver was apparently more than willing to buy.
Iowa State, in year two of the Matt Campbell era, went 8-5 and made it to the program's first bowl game since 2012. Things appear to be trending in the right direction.