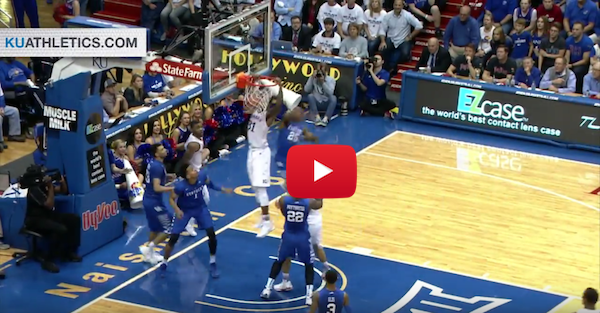 No. 4 Kansas (17-4, 5-3) hosted No. 20 Kentucky (16-5, 6-2) in a phenomenal matchup of historically great basketball programs. It completely lived up to its billing of not only being a primetime game, but one that was actually fun to watch. It was ultimately a 90-84 win for the Jayhawks, but it took an overtime and a whole lot of fouls to get there.
The Wildcats gave Kansas all it could handle and led for much of the second half until the Jayhawks took it back with just under five minutes left in the second half. The two teams traded buckets for the rest of the game and thanks to some timely missed free throws, the Wildcats were able to stay in the game. However, fouls proved to be their undoing as four players fouled out of the game they were all big men.
Kansas had significant contributions from almost everyone who played and had four guys in double figure scoring. Perry Ellis had 10 points and nine boards while Devonte' Graham chipped in 11 points and five assists and Frank Mason had 13 points, eight rebounds and four assists. Wayne Selden had a monster night with 33 points, which was good enough to tie a record with a pretty famous Jayhawk.
Kentucky had its contributors as well with Tyler Ulis leading the way with 26 points, eight assists, three steals and two rebounds. Jamal Murray had 15 points and six rebounds while Alex Poythress had 13 points and eight rebounds to help. Isaiah Briscoe also chipped in 12 points and five boards. It would have been only the tenth loss at Phog Allen Fieldhouse if Kentucky had pulled off the win.