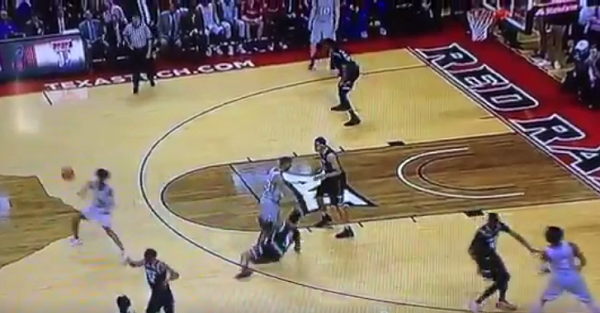 Twitter/@E_Janzen
No. 3 Kansas has had its fair share of close calls this year and Saturday's 80-79 win at Texas Tech was yet another one. The Jayhawks pulled out a win thanks to Josh Jackson hitting one of his two free throws with 2.8 seconds and with both teams tied up at 79. Here's the foul that got him to the free throw line.
RELATED: Refs look the other way as KU survives upset bid
And here's another angle on the "screen" Lucas set for Jackson:
That would explain how Jackson got so open and was able to get a clean drive to the basket. That was clearly a moving screen from big man Landen Lucas and one that probably should have been called at that juncture in the game. The Jayhawks also got away with a Svi Mykhailiuk travel in a game earlier in the season that sealed the deal for a win.