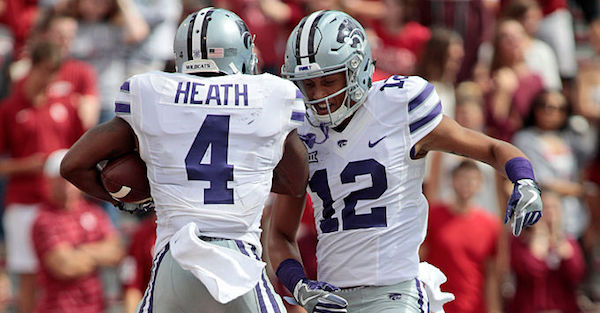 Brett Deering/Getty Images
NORMAN, OK - OCTOBER 15: Wide receiver Dominique Heath #4 and wide receiver Corey Sutton #12 of the Kansas State Wildcats celebrate a touchdown against the Oklahoma Sooners October 15, 2016 at Gaylord Family-Oklahoma Memorial Stadium in Norman, Oklahoma. Oklahoma defeated Kansas State 38-17. (Photo by Brett Deering/Getty Images)
It's common practice for college football coaches to block former players from transferring to other schools. Most coaches will block a player from transferring to a school within the conference or a school on the upcoming schedule.
Related: Auburn transfer can't figure out why school is barring him from national championship contender 
Former Kansas State wide receiver Corey Sutton decided to transfer from the Wildcats after his freshman year in 2016, and coach Bill Snyder decided to block Sutton from transferring to 35 different schools.
According to the Kansas City Star, Sutton informed Kansas State in May that he had 35 potential transfer destinations. No school on the list was from the Big 12, and there were no future opponents on the list either.
However, Kansas State decided to block Sutton from transferring to every single school he listed. Some of the teams were even FCS and Division II schools. Yet Kansas State still blocked the transfer.
Sutton appealed the ruling, but the school upheld the decision. Snyder told Sutton that when he committed to Kansas State, he committed to be there for four years. Sutton told Snyder that he didn't feel like the coach was treating him fairly.
"It's my commitment that once we have signed the youngster that we're committed to him as long as he behaves himself," Snyder told Kevin Keitzman of WHB 810 AM, via the KC Star. "I accept a youngster that comes into our program as making a similar commitment with a handshake and obviously a signed piece of paper."
Snyder went on to say that Sutton is free to leave, but he won't release him. That means Sutton can't accept a scholarship from another school for the 2017 season unless Kansas State releases him from his scholarship.
Sutton, who caught four passes for 54 yards last season, can go anywhere as a walk-on in 2017 and then accept a scholarship the following year, but he said he can't afford to do that without financial aid.
Bill Snyder has one of the best reputations of any coach in college football, but this is a rare instance where he deserves some criticism. It's understandable to prevent a transfer to a school on the upcoming schedule, but just outright preventing a transfer to any school is absurd.