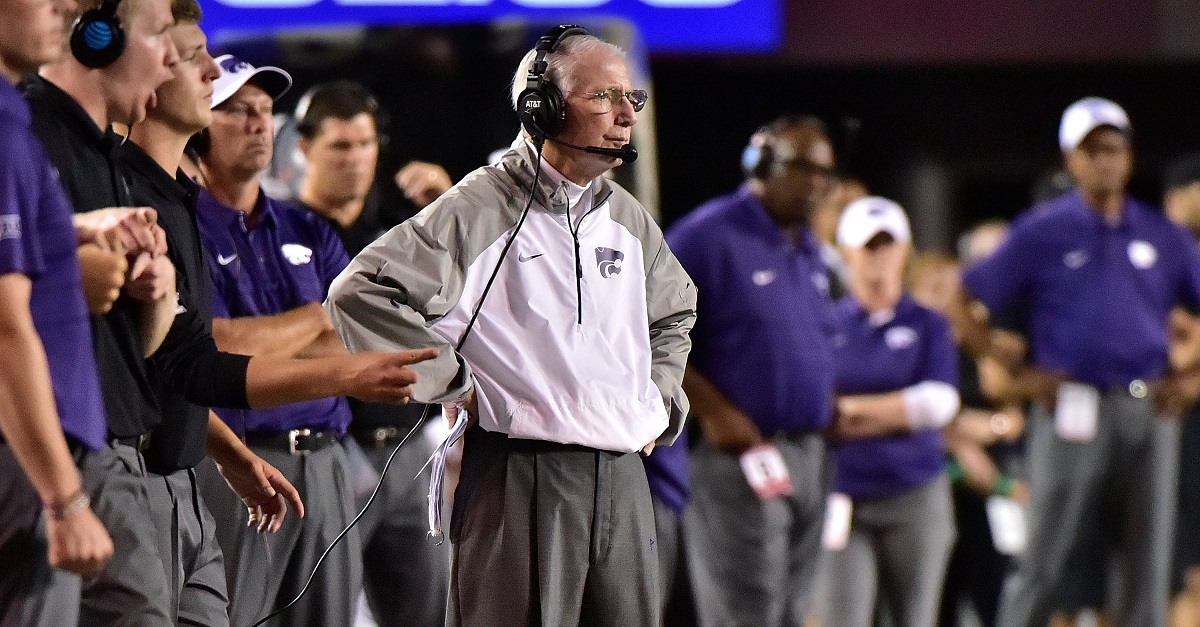 Frederick Breedon/Getty Images
NASHVILLE, TN - SEPTEMBER 16: Head coach Bill Snyder of the Kansas State Wildcats watches from the sideline during the second half of a 14-7 loss to Vanderbilt at Vanderbilt Stadium on September 16, 2017 in Nashville, Tennessee. (Photo by Frederick Breedon/Getty Images)
Former ESPN college football guru Brett McMurphy reported on Thursday that Kansas State was prepared to make former USF head coach and then Colorado defensive coordinator Jim Leavitt the replacement for legendary head coach Bill Snyder starting in 2018.
Until Snyder nixed the idea, as he was his son — Sean Snyder — to take his place when he retires.
McMurphy expanded on his report in a Facebook post:
Jim Leavitt had a verbal agreement last year to become Kansas State's head coach-in-waiting and become its current coach in 2018, but KSU coach Bill Snyder nixed it because he wanted his son Sean as his replacement.
Sources said Kansas State's top officials, including president Richard Myers, and the school's highest-profile boosters were all on board with Leavitt, then a Colorado assistant, joining KSU's staff and then replacing the legendary Snyder after the 2017 season. Leavitt and the school had an agreement, guaranteeing Leavitt $3 million if he wasn't named K-State's coach by Jan. 1, 2018.
However, last December, Snyder pushed back on Leavitt, a former KSU assistant, being named his replacement because Snyder wanted his son Sean, currently KSU's associate head coach and special teams coordinator, to replace him, sources said.
Snyder's K-State contract stipulates when he's done coaching at KSU he will be a "special assistant to the athletic director" and "shall also have appropriate input … regarding the selection of the next head football coach."
Leavitt has since joined Willie Taggart's staff at Oregon, where he currently serves as the Ducks' defensive coordinator. Leavitt is a former Kansas State assistant, having served under Snyder in the 1990s before taking over the startup program at South Florida in 1997.
Snyder, 78, was diagnosed with throat cancer last year, but he has remained the head coach for Kansas State since his diagnosis. Snyder is currently in his 26th season as head coach (1989-2005, 2009-now) with Kansas State, where he has an all-time record of 207-110-1.