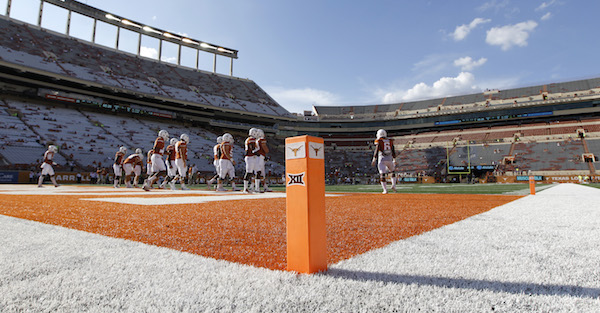 Chris Covatta/Getty Images
AUSTIN, TX - SEPTEMBER 6: An end zone pylon in a general view of Darrell K Royal-Texas Memorial Stadium before the BYU Cougars play the Texas Longhorns on September 6, 2014 in Austin, Texas. (Photo by Chris Covatta/Getty Images)
There has been plenty of speculation in recent days that the Big 12 is "dying" or even that the Oklahoma Sooners are looking for any possible way to escape from the conference. However, that looks very silly if one report is correct, as Chuck Carlton of The Dallas Morning News brings word that member institutions in the Big 12 are bringing in an incredible amount of annual revenue.
It should be noted that no official word has broken in this regard at this point but the reported numbers are massive. For reference, a $33-34 million number per school would be roughly equivalent to what the Big Ten has been reported to claim in recent years. The SEC remains king with numbers upward of $40 million per school but, if the Big 12 is even in the same stratosphere as the behemoth that is the SEC, things are going pretty well for the league.
Until the conference sustains more success as a whole, there will probably always be some rumblings that the now 10-member league will be going away in the near future. Still, this revelation should pour some cold water on that thought and the Big 12 still has Oklahoma and Texas to fall back on to stabilize matters across the board.