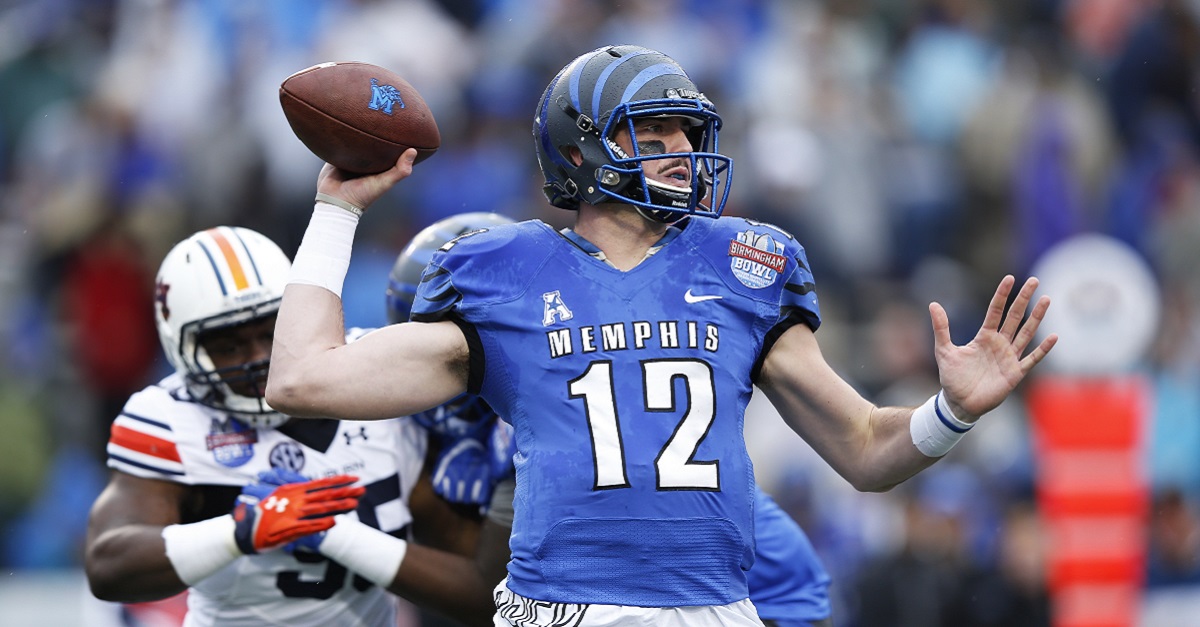 Joe Robbins/GettyImages
BIRMINGHAM, AL - DECEMBER 30: Paxton Lynch #12 of the Memphis Tigers passes against the Auburn Tigers in the first half of the Birmingham Bowl at Legion Field on December 30, 2015 in Birmingham, Alabama. (Photo by Joe Robbins/Getty Images)
Getting into the Big 12 seems to be extremely important to the University of Memphis. So much so that they apparently tried to "bribe" current Big 12 member Texas Tech with… barbecue.
Yes, seriously. From the Lubbock Avalanche-Journal:
The University of Memphis is so eager to get into the Big 12, university president M. David Rudd apparently even plied a Texas Tech counterpart with some of the city's famous barbecue.

After extolling the virtues of the university and the city in a roughly 300-word e-mail to Tech's then-interim President John Opperman, Rudd wrote, "We have enclosed some of our famous Rendezvous ribs to share the genuine flavor of Memphis."
RELATED: Report: The Big 12 is set to meet with these teams over expansion
Obviously the city of Memphis is famous for its barbecue, so it makes sense that — at some point in a presentation on the virtues of adding Memphis — the city most prominent cuisine would eventually make an appearance. I mean, what's tailgating without some good barbecue?
While this was obviously just a funny ploy by Memphis, maybe they should take the barbecue approach more seriously. Sure, the Texas guys might favor their own brand of barbecue, but so much that they would down Memphis-catered conference meetings? Sure, half-joking here, but it's not like any of the other competitors in Big 12 expansion can bring something like that to the table. Literally.
I guess we will have to wait and see if this one pays off for Memphis.