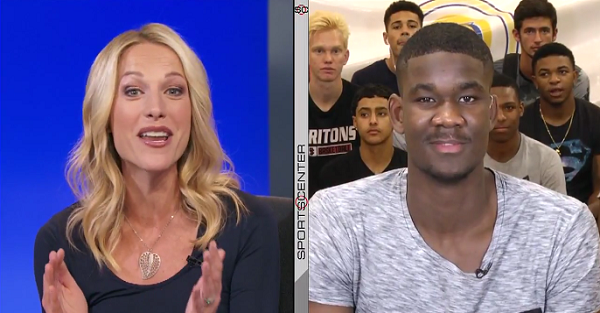 Screenshot/ESPN
DeAndre Ayton is the consensus top player in the class of 2017 and he might have had the quietest recruiting period out of any top recruit in recent memory. Not many schools recruited him, but the Arizona Wildcats, Kentucky Wildcats and Kansas Jayhawks made his top three in the end.
RELATED: DeAndre Ayton has his final three schools
He made his final decision on SportsCenter and he just made the West Coast Wildcats pretty darn happy. He's a 7'0″, 235-pound center with a smooth shooting stroke and a lot of bounce. His upside has been pointed to as a reason for his high ranking and the fact there's just no one else out there with his combination of size, athleticism and height.