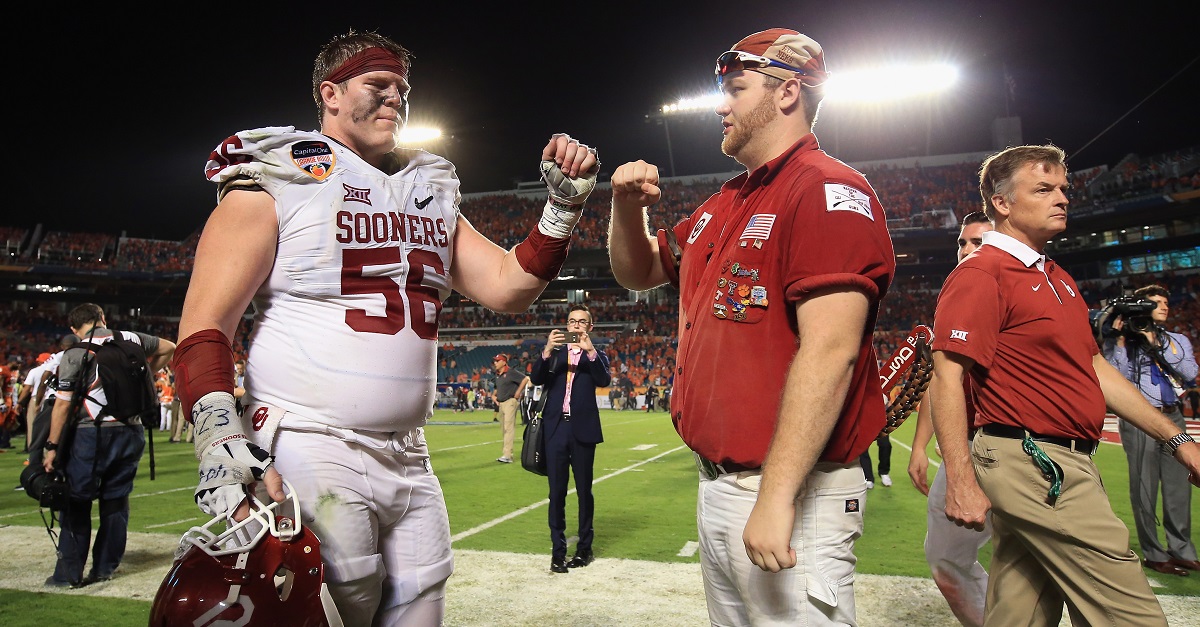 Rob Foldy/Getty Images
MIAMI GARDENS, FL - DECEMBER 31: Ty Darlington #56 of the Oklahoma Sooners walks off field after losing to the Clemson Tigers with a score of 37 to 17 in the 2015 Capital One Orange Bowl at Sun Life Stadium on December 31, 2015 in Miami Gardens, Florida. (Photo by Rob Foldy/Getty Images)
There is a significant number of people in this world who don't believe that a home field advantage exists in sports. I personally disagree and there's one more person now who disagrees with that. Former Oklahoma offensive lineman Ty Darlington recently opened up about home field advantage and there's one place in particular that convinced him it definitely exists.
RELATED: Two Oklahoma players to face discipline after classless celebration in win over Tennessee
Here is his stance before going to Neyland Stadium in Knoxville:
I was never a big believer in homefield advantage. I scoffed at the notion that a fan could actually have an impact on a football game. You have a hostile crowd? Good. I feed off of hostile crowds, and I embrace it when fans ridicule me. You think you?re loud? Whatever. We use a silent count anyways, and noise is only a factor on three to four plays a game. Your homefield advantage is incredibly overrated. Bring it on. You?re wasting your breath.
And this is what he thought about it after having to play a game there and dealing with 100,000 fans bearing down on him:
That night in Neyland Stadium, playing football seemed all but impossible, and that can be attributed as much to the men and women in the stands as to the uniformed men on the field itself. That night, as I boarded the flight back to Norman with Rocky Top ringing in my ears, I realized that I had been converted. From a man skeptical of fan impact, to a man in awe of it.
RELATED: Oklahoma celebrates on Tennessee's turf in most classless way possible
He went on to talk about how the Sooners had to change their snap count on the first drive because it was nearly impossible to communicate. The lineman couldn't hear Baker Mayfield's play calls and they couldn't talk to make checks and alerts along the line either. Darlington also said that he could literally feel the noise on his skin the crowd was so loud.
Don't ever believe for a second that home field advantage doesn't exist. Sportsbook give teams extra points for it and fans are incredibly superstitious about it.
[h/t The Spun]