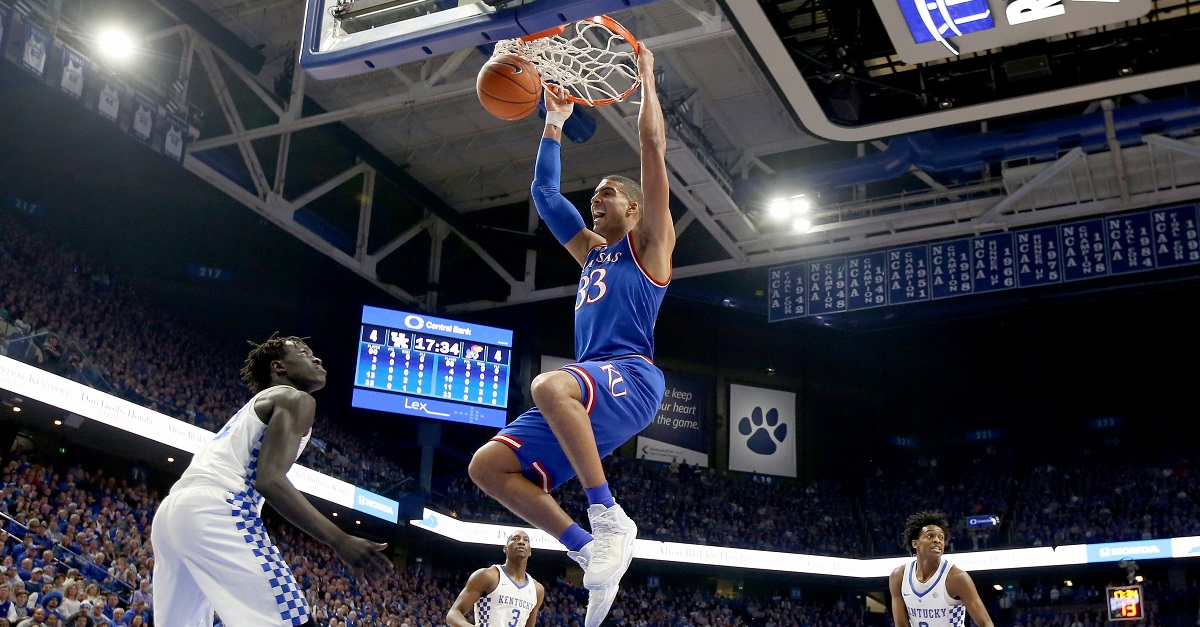 Andy Lyons/Getty Images
LEXINGTON, KY - JANUARY 28: Landen Lucas #33 of the Kansas Jayhawks dunks the ball against the Kentucky Wildcats during the game against at Rupp Arena on January 28, 2017 in Lexington, Kentucky. (Photo by Andy Lyons/Getty Images)
The No. 2 Kansas Jayhawks came into their game with No. 4 Kentucky off a bad loss to West Virginia in Morgantown while the Wildcats were coming off one themselves at Tennessee. So when the two winningest programs in all of college basketball get together you know a lot is on the line even if they aren't trying to avoid losing streaks. Kansas got the better of Kentucky in this one 79-73 despite a very limited roster.
RELATED: Kansas loses key big man ahead of major tilt with Kentucky
The Jayhawks were without forward Carlton Bragg because he was suspended due to a violation of team rules. That meant Mitch Lightfoot and Dwight Coleby got extra minutes and that would prove especially true with Landen Lucas in foul trouble much of the night. He ended up fouling out of the game, but not before he had made his impact felt with 13 points and five rebounds.
Frank Mason led all scorers with 21 points and four assists while Josh Jackson had a 20-point, 10-rebound performance. Devonte' Graham also had 12 points and seven rebounds to round out the high scorers for Kansas. They also made exactly half their shots, but only hit 26.3 percent of their shots from beyond the arc.
Kentucky was led by Derek Willis and Malik Monk's 18 points apiece while Isaiah Briscoe had the most complete game with 12 points, six assists and eight rebounds. Bam Adebayo and De'Aaron Fox had 10 points each and Dominique Hawkins had five points off the bench.
Kansas next plays Baylor on Wednesday and Kentucky hosts Georgia on Tuesday.