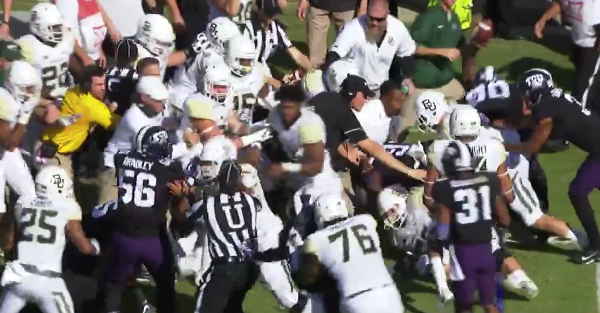 Clippit/@boringtjnesbit
Saturday's game between Baylor and TCU looked like a mismatch on paper coming into the final weekend of the college football regular season. The Horned Frogs were favored by more than three touchdowns against the one-win Bears and TCU was playing for something in that a victory clinched a spot in the Big 12 Championship Game and a rematch against the Oklahoma Sooners next week.
However, Baylor got off to a hot start and was able to keep the game competitive into the third quarter. Unfortunately, things turned a bit ugly at that point, as the two teams engaged in a bench-clearing brawl with TCU leading 35-22.
Widespread unsportsmanlike conduct penalties were assessed, including to both benches. In fact, that paved the way for any player on either side to be ejected for an additional issue over the final 16-plus minutes. Oh, and the referee explanation was spectacular.
It appears as if things did not escalate to the point of pure madness in the way that they could have but, in the same breath, scraps like this are never ideal at the highest level of football. Baylor and TCU clearly don't like each other and that is the nature of rivalry weekend. This one went to another level, though, and it is honestly a good thing that it didn't get worse.