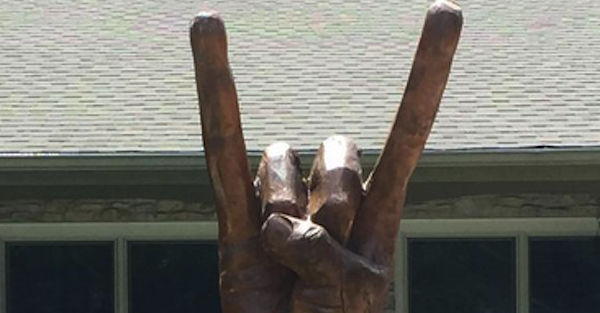 Twitter/@AnwarRichardson
Hook 'em.
That is, of course, the sentiment shared by fans of the Texas Longhorns in support of their team, and there is even a convenient (and easy to display) symbol of their affection for the university using just one hand. However, a passionate Texas fan has taken things to a new level, seemingly spending countless time and/or money to invest in a tree carving of the famous symbol.
Anwar Richardson of Rivals brings the visual:
This. Is. Incredible.
Regardless of fan allegiance, the effort needed to put this together is mind-blowing, and it displays for all to see. In short, there is no hiding from this as a Texas fan.
Personally, I would like to know what the follow-up to this particular carving would be, and whether that would entail a life-sized portrait of head coach Charlie Strong or something of that nature. Alas, here we stand, and this Texas fan wins the internet on this particular day.