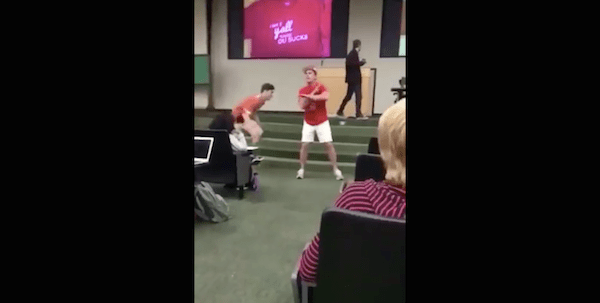 BarstoolSports/Twitter
BarstoolSports/Twitter
The rivalry between Texas and Oklahoma is one of the most passionate in college football, so much so that it's carried over to the classroom.
A video shared on Barstool Sports' Twitter account showed a University of Texas classroom in which a man decked out in Oklahoma gear screaming and trash talking about a "freight train" and "Baker Mayfield" coming to the Cotton Bowl for the Red River Rivalry on Saturday.
Seconds later, the fan is tackled by a student wearing a Longhorns football jersey, as shown below:
It's hard to believe this wasn't staged considering how calm the professor was in the background. But still, the video is even more proof that one of college football's biggest rivalries is once again on the upswing.
This year's matchup will feature two first-year coaches in Texas' Tom Herman and Oklahoma's Lincoln Riley. The Longhorns have bounced back from a stunning season opening loss against Maryland to win three of their last four games.
The Sooners are coming off an upset loss to Iowa State, which knocked them back to No. 12 overall.
There's no question that this year's game will have huge implications on the Big 12 Championship and bragging rights on both sides of the Red River.